New Democracy demands early elections, insists it will vote down Prespa accord
'The agreement deals a huge economic blow to businesses and products in northern Greece. It raises issues of competition and certification which produce mutual suspicion, and finally turns into an obstacle to inter-state and commercial relations.'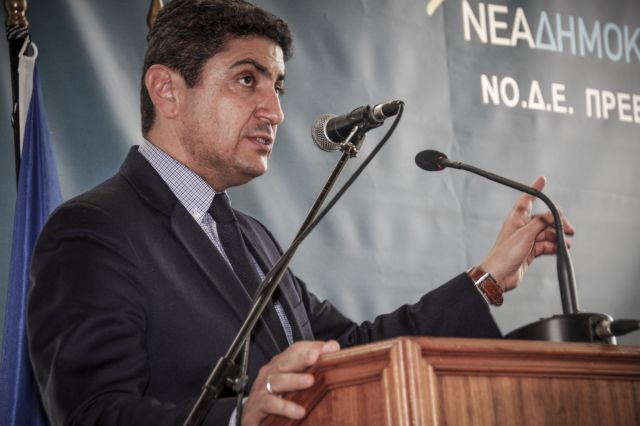 Ï ÃñáììáôÝáò ÐïëéôéêÞò ÅðéôñïðÞò ôçò ÍÝáò Äçìïêñáôßáò. ËåõôÝñçò ÁõãåíÜêçò óôçí êïðÞ ðßôáò ôçò ÍÏÄÅ ÐñÝâåæáò ôçí ÊõñéáêÞ 21 Éáíïõáñßïõ 2018. (EUROKINISSI/ÃÉÙÑÃÏÓ ÅÕÓÔÁÈÉÏÕ)
New Democracy Party Secretary Lefteris Avgenakis has declared that the main opposition conservative party will vote down the Greece-FYROM Prespa Agreement, either in this parliament or the next one, following the general election.
"As New Democracy, we shall not ratify this agreement, either in the current parliament or in the next one. We are demanding elections. That is the only referendum that produces an immediate political result, so that the citizens can give us a mandate and the responsibility to avert this harmful agreement," he said.
The remarks came just two days before the crucial referendum in FYROM, in which citizens will respond to the loaded question of whether they support FYROM's accession to the EU and Nato, aided by the Prespa Agreement.
In a series of tweets, Avgenakis attempted to deconstruct the arguments in support of the Prespa Agreement:
"Now, there is no statement in which [FYROM PM Zoran] Zaev uses the name 'North Macedonia'. That absolutely confirms the view of New Democracy's president, which is that recognising a 'Macedonian' nationality and language will result in people forgetting [the geographic mark]the word 'north', leaving just plain 'Macedonia'."
"The agreement deals a huge economic blow to businesses and products in northern Greece. It raises issues of competition and certification which produce mutual suspicion, and finally turns into an obstacle to inter-state and commercial relations."
"The agreement that was signed by Messrs Tsipras, [Foreign Miinister Nikos] Kotzias, and [Defence Minister and Independent Greeks leader Panos] Kammenos, is a bad agreement. It is an agreement that offends all Greeks, not just [Greek] Macedonians, as it cedes the 'Macedonian identity' to our neighbours."
"Mr. Tsipras' coalition partner [Kammenos] used to say that he will withdraw from the government over the agreement with Skopje. Now is the time for Mr. Kammenos to prove that his stance is not just bravado."