Editorial: Hole-ridden banks, hole-ridden country
A businessman created a commercial vehicle that allowed him to act as a liaison between Chinese demand and Athenian supply, circumventing Chinese capital controls and all limitations in the process.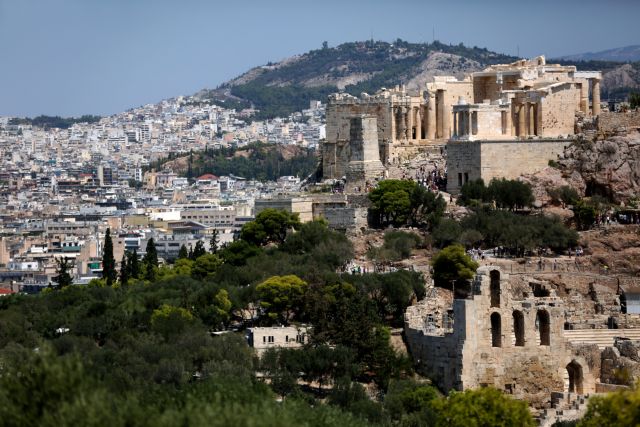 Περιοχή με πολυκατοικίες γύρω από το λόφο της Ακρόπολης, Αθήνα, Σάββατο 18 Αυγούστου 2018. Μέχρι τις 31 Αυγούστου θα αναρτηθούν τα εκκαθαριστικά του ΕΝΦΙΑ 2018 στο Taxisnet όπως ανακοίνωσε η Ανεξάρτητη Αρχή Δημοσίων Εσόδων (ΑΑΔΕ) ενώ η πρώτη δόση του φόρου θα πρέπει να καταβληθεί έως το τέλος Σεπτεμβρίου. ΑΠΕ-ΜΠΕ/ΑΠΕ-ΜΠΕ/ΣΥΜΕΛΑ ΠΑΝΤΖΑΡΤΖΗ
Over the last days, the international media, some enthusiastically and others with bewilderment, have reported on the en masse purchase of Athens real estate by nouveau rich Chinese.
What  they underlined was the rapidly growing interest and the magnitude of the phenomenon, to the point that many wondered, 'Why are the Chinese suddenly buying homes in the Greek capital?'
Everyone knew of the fervent desire of the nouveau rich of that at once great and strict country to acquire "golden visas" and dual citizenship, to protect them from any possible dangers posed by the regime in their country.
However, they also knew that, recently, capital controls and other limitations had been imposed.
All the related questions were immediately answered when it emerged that a businessman working for a large company had created a commercial vehicle that allowed him to act as a liaison between Chinese demand and Athenian supply, circumventing all limitations in the process.
He came into contact with a domestic bank and found employees willing to assist him and started acquiring POS terminals in large numbers. These were linked to his business and the bank, after he had acquired the homes at foreclosed property auctions.
He sent the POS terminals by aeroplane to China, where he had already found the interested buyers, and completed transactions with a ceiling of 250,000 euros, the minimum amount that ensured the issuance of the golden visa.
The market value of the properties were usually lower than 250,000 euros, and so the imaginative and "bold" businessman raked in huge profits, some of which were distributed to the helpful and willing bankers, who opened the necessary loophole in the Greek banking system, so as to conduct his immensely profitable transactions.
When the ruse was revealed, it stirred great interest internationally, as might be expected.
The Chinese government demanded a thorough investigation, the American media ran reports from correspondents, and the embattled Greek banking system once again proved to be hole-ridden and exposed.
Unfortunately, even now, after so many bitter experiences, Greece remains hole-ridden and untrustworthy, without security mechanisms and foresight.
One cannot carry on like that, as with such a situation one can neither build trust nor lure investment. Such a framework favours only opportunists and con artists.
Ακολουθήστε
στο
Google News
και μάθετε πρώτοι όλες τις ειδήσεις
Δείτε όλες τις τελευταίες
Ειδήσεις
από την Ελλάδα και τον Κόσμο, από