Foreign Minister blasts Defence Minister at cabinet meeting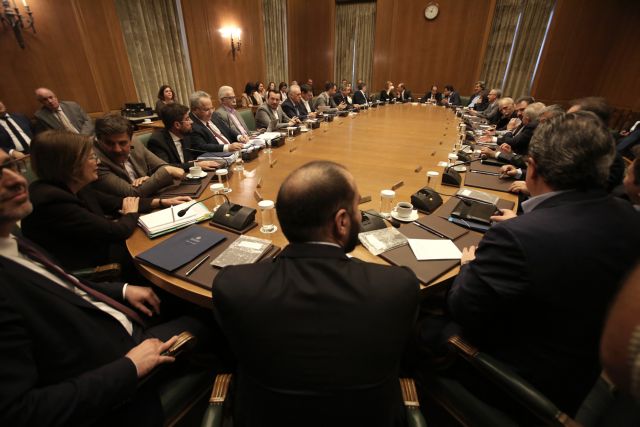 Γενική άποψη από τη συνεδρίαση του Υπουργικού Συμβουλίου υπό την προεδρεία του πρωθυπουργού Αλέξη Τσίπρα στη Βουλή, Αθήνα, Τρίτη 16 Οκτωβρίου 2018. ΑΠΕ-ΜΠΕ/ΑΠΕ-ΜΠΕ/ΣΥΜΕΛΑ ΠΑΝΤΖΑΡΤΖΗ
Foreign Minister Nikos Kotzias at a cabinet meeting today unleashed a vitriolic attack against Defence Minister Panos Kammenos, after the latter trashed the Greece-FYROM Prespa Agreement at an official meeting with US Defense Secretary Jim Mattis in Washington, where he proposed his own Plan B, in lieu of FYROM's Nato membership, with Balkan alliances that would stem Russian influence in the region.
Sources said that Kotzias demanded an explanation from Kammenos, and then proceeded to rake him over the coals. Relations between the two have been tense for months, in large measure over the FYROM issue.
"You cannot speak as foreign minister. Your behaviour transcends your remit, and you are playing a personal game that embarrassed the prime minister and myself," an enraged Kotzias is said to have stated.
Kotzias recently stated that he and the prime minister set foreign policy, to which Kammenos later replied that he and the PM decide jointly.
The spat ended with the intervention of Digital Policy Minister Nikos Pappas, a close confidant of PM Alexis Tsipras, and other ministers, who did not want the argument to spin out of control.
Perhaps sensing the brewing tensions, Tsipras had barred cameras from entering the cabinet room, and imposed a gag order on ministers.
Kammenos reportedly did respond excessively or with invective, as there were no other ministers to support him.
Pappas and other ministers underlined that the government must continue functioning and that they did not view Kammenos as the "Greek Salvini" [as ex-education minister Nikos Filis had suggested], but the minister was clearly isolated.
At the cabinet meeting, Tourism Minister and Independent Greeks MP Elena Kountoura made clear that she will back the government until the end, and that she will vote according to her conscience when the Prespa Agreement is tabled in parliament for ratification, clearly implying that she is prepared to break the Independent Greeks party line, which is categorical opposition to the agreement.
Ακολουθήστε
στο

Google News
και μάθετε πρώτοι όλες τις ειδήσεις
Δείτε όλες τις τελευταίες
Ειδήσεις
από την Ελλάδα και τον Κόσμο, από