Mitsotakis: "Populism is maintaining the bailouts in Greece"
The president of New Democracy Kyriakos Mitsotakis noted that "populism is effective…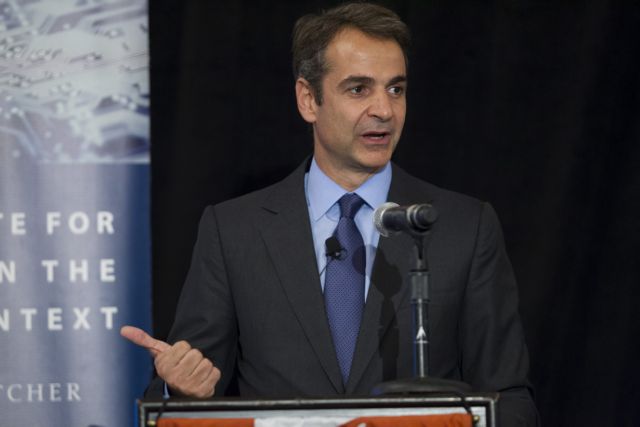 The president of New Democracy Kyriakos Mitsotakis noted that "populism is effective in opposition and ineffective in government" during a lecture he gave at Harvard University on "The Future of Democracy"
The main opposition leader separated his party's position from populism, saying that he aims to offer a new vision of politics. "Our first priority is to show the world we recognize the mistakes of the past, to restore its trust, to convince we're changing. With new ideas, new people, new policies" he said.
Later on the ND leader stressed that it is critical to address populism in Greece, whether it comes from the left of the right. "SYRIZA was elected supported by a big lie. Inevitably, the country collided with reality. We had to sign a third memorandum. The economy remains in recession. Six years after the outbreak of the crisis, Greece remains in aid programs. 90% of the population believes the country is heading in the wrong direction" he commented.
In relation to his party plans to overcome the financial crisis, Mr. Mitsotakis told the audience that Greece needs a new policy mix that will include a reduction of taxes and government spending. "At the same time, we stressed the need to attract foreign investments to create new jobs. We have to stop the brain drain immediately. Greece has comparative advantages and these must be highlighted" he explained.
Finally, the main opposition leader commented that Greece must negotiate with its creditors to lower the agreed primary surplus targets, since is very difficult for the economy to recover when annual targets for the next decade is 3.5%. "Such high surpluses can undermine reforms. Primary surpluses are directly inked with the issue of Greece's unsustainable debt" he concluded.
Ακολουθήστε
στο

Google News
και μάθετε πρώτοι όλες τις ειδήσεις
Δείτε όλες τις τελευταίες
Ειδήσεις
από την Ελλάδα και τον Κόσμο, από