US President Barack Obama arrives in Athens
The Air Force One landed at the Athens International Airport shortly after 10:30 on Tuesday…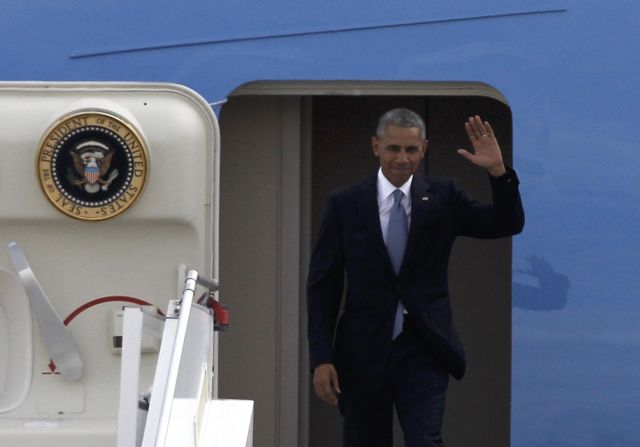 The Air Force One landed at the Athens International Airport shortly after 10:30 on Tuesday, with US President Barack Obama being welcomed by the Minister of National Defense Panos Kammenos.
The American President greeted the crowed that gathered at the airport and then headed towards the hotel where he will be staying on his two-day visit. By his side was the US Secretary of Treasury Jack Lew.
At 13:00 the American President will be received by the President of the Hellenic Republic Prokopis Pavlopoulos and at 14:30 he will meet Prime Minister Alexis Tsipras. Follwing the meeting, Tsipras and Obama will make joint statements. An official dinner will be held at the Presidential Mansion.
On Wednesday morning the American President will visit the Acropolis and will make a short statement by the Parthenon. Later on, at 12:30, he will deliver a speech at the Stavros Niarchos Foundation. White House officials commented that the US President will underline the importance of democracy and address the challenges of globalization; both the benefits it has brought as well as the inequalities it has generated and must be resolved. The recent elections and Brexit are likely to be addressed.
Following his speech, the American President will leave Athens and head to Berlin.