Karamouzis: "The Greek economy lost €116bn from deposits since 2009"
The chairman of the board at the Eurobank group Nikos Karamouzis gave a speech on the consequences of the capital controls…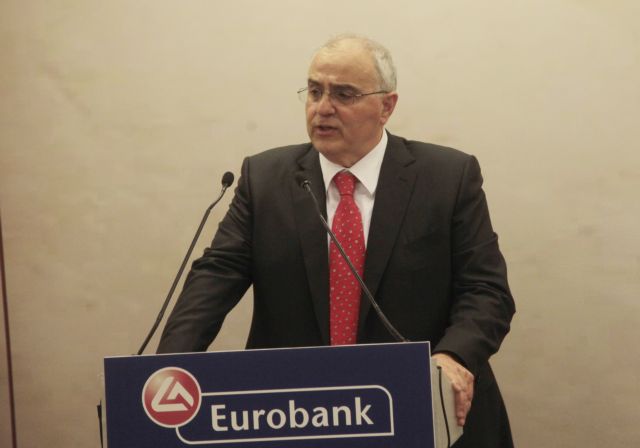 The chairman of the board at the Eurobank group Nikos Karamouzis gave a speech on the consequences of the capital controls in relation to growth and the function of enterprises. In his speech Mr. Karamouzis presented interesting information of the progress of the Greek economy, the implementation of the first two bailouts and the prospects of the economy.
According to Mr. Karamouzis, the Prime Minister's "difficult, painful and necessary" agreement reached with Greece's European partners was essential to avoid a head-on collision and saved the country from a "huge adventure, with an immeasurable cost and destructive long-term political, national, financial and social consequences".
Mr. Karamouzis cited a Grant Thorton report (for the October 2014 to August 2015 period) which shows that since the onset of the financial crisis in 2009, over 116 billion euros (about 65.2% of GDP) in business and household deposits have been lost. Currently over 50 billion euros in cash are in circulation, about 28% GDP, when the Eurozone average is 10%.
The introduction of capital controls helped avoid a collapse of Greek banks, as well as a bail in of bank accounts and the 'violent loss' of the international network of Greek banks (with assets worth 60 billion euros). Without the agreement, he added, the negative consequences for the Greek economy and society would be immense.
The long-standing threat of a 'Grexit' and bail in though allowed businesses and households to draw their funds from the domestic banking system, in preparation of capital controls. Mr. Karamouzis noted that this helped mediate the negative effect of the capital controls on the Greek economy. This is demonstrated by a Eurobank study, which shows that 34.8% of its clients were not affected at all by the capital controls, compared to 44.9% which saw some "minor effects", 17.4% which experienced "significant effects" and 2.9% which experience "very significant effects".
While many of the effects have been negative, Mr. Karamouzis explained that the capital controls forced Greek consumers to make greater use of credit and debit cards, while businesses turned to POS machines, which will have greatly support the efforts to tackle tax evasion. Nevertheless, the country still faces a serious savings and deficit problem, which unless addressed, will gradually undermine any recovery efforts.
Finally, the Eurogroup chairman explained that three critical changes are needed: the gradual reduction of taxation, since "over taxation kills the economy", creating a friendly business and investment environment and modernizing public administration and institutions. Mr. Karamouzis noted "we have all become wise, more realistic, learned from our mistakes and armed with strength to heal the deep wounds of yesterday".
A full transcript of Mr. Karamouzis' speech (in Greek) is available online

.
Ακολουθήστε
στο

Google News
και μάθετε πρώτοι όλες τις ειδήσεις
Δείτε όλες τις τελευταίες
Ειδήσεις
από την Ελλάδα και τον Κόσμο, από