Gennimata blasts SYRIZA, ND but considers prospect of grand coalition
The centre-left Movement for Change leader said that the condition for her party's participation in a grand coalition is, among others, the rescinding of the law passed by former labour minister Yorgos Katrougalos, which is the basis for legislated pension cuts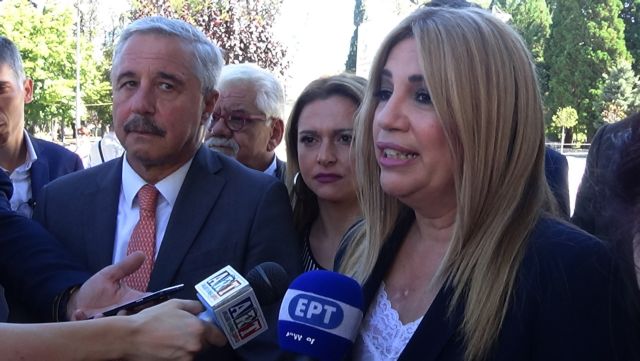 Ç Öþöç ÃåííçìáôÜ óôéò åêäçëþóåéò åïñôáóìïý ôçò 197çò Åðåôåßïõ ¶ëùóçò ôçò ÔñéðïëéôóÜò. (Eurokinissi-arcadiaportal.gr)
In a surprise shift, centre-left Movement for Change leader Fofi Gennimata left open the prospect of joining a ruling coalition with New Democracy and SYRIZA after the next general election.
She said that the condition for her party's participation in such a grand coalition is, among others, the rescinding of the law passed by former labour minister Yorgos Katrougalos, which  is the basis for legislated pension cuts that are due to be implemented on 1 January, 2019.
Gennimata said that her party will not serve as a crutch, for any party to gain a parliamentary majority, but rather it will be a catalyst for political developments.
In a full frontal attack against Prime Minsiter Alexis Tsipras, Gennimata said that, "after he passed the stage of defrauding [the electorate] and self-deception", Tsipras proved that he cannot successfully manage and of the issues which he has handled. She noted the Mandra, Attica flooding disaster and the wildfires in Mati and Eastern Attica.
Gennimata said that in the 2019 budget the government includes scenarios with and without pension cuts, which means that the creditors will decide. She said this confirms that there has been no "clean exit" from the bailout memorandum.
Gennimata also said that Tsipras and FYROM PM Zoran Zaev lost an important opportunity to resolve the naming issue, because the way they negotiated the agreement was not right.
Gennimata said that Tsipras negotiated entirely on his own, without convening a conference of party leaders, and that now he wants to ratify the Prespa Agreement in parliament without the requisite majority, as his junior coalition partner will vote down the deal.
Gennimata also distanced herself and her party from New Democracy. "We shall not allow Mr. Mitsotakis to bring economic growth for the few, as he wants.