PM Samaras poses divisive dilemma: "Choose SYRIZA or the euro"
The Prime Minister Antonis Samaras addressed New Democracy's MPs on Thursday afternoon over the Presidential elections…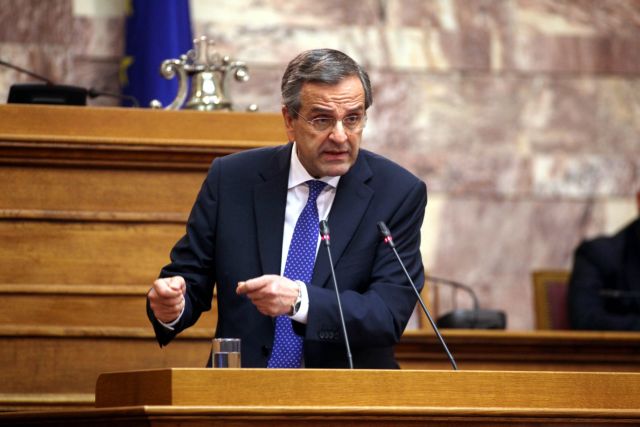 The Prime Minister Antonis Samaras addressed New Democracy's MPs on Thursday afternoon over the Presidential elections and posed a polarizing dilemma: either a President is elected and there will be political stability and growth, or the country will enter a new phase of political uncertainty and be ousted from the euro.
Essentially, the Prime Minister returned to the rhetoric he adopted during the 2012 general elections, when he stressed that the Greek people had to choose between the drachma and the euro. Mr. Samaras argued in his polemic against SYRIZA that the Greek people do not want early elections and stressed the critical nature of the final vote of the first phase in the Presidential election.
Mr. Samara underlined that the messages from abroad warn of the possibility of a "Grexit" and that the possibility of early elections, should Parliament fail to elect a President, will further increase the political uncertainty and jeopardize the future of negotiations.
While many independent MPs have previously expressed their intention to vote against the Presidential candidate, the Prime Minister believes that as time approaches the critical vote on the 29th of December, more will reconsider. So far, a number of ANEL and DIMAR MPs have openly talked about their reservations and qualms.