Parliamentary discussion on vote of confidence to conclude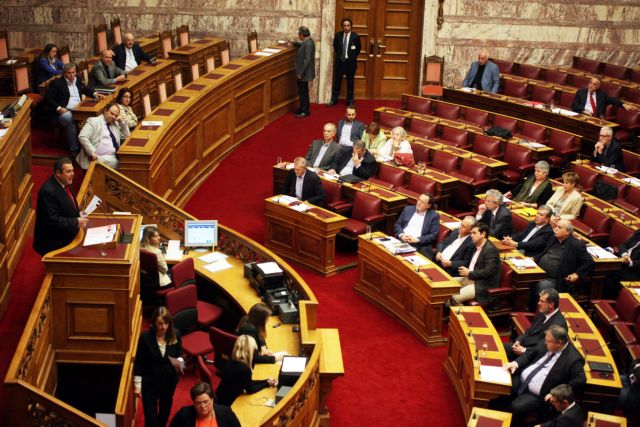 The parliamentary discussion on the vote of confidence requested by the coalition government is set to conclude on Friday…
he parliamentary discussion on the vote of confidence requested by the coalition government is set to conclude on Friday evening, when MPs will be called upon to vote. The conflict between the coalition government and the main opposition party escalated in Parliament on Thursday, as MPs from both sides clashed on government policy.
The Minister of Interior Argyris Ntinopoulos argued that requesting a vote of confidence was "obvious" and claimed that the government would come out stronger from the process. The Minister of Administrative Reform Kyriakos Mitsotakis followed along the same lines, further denouncing SYRIZA for "irresponsible and populist politics with experimental leftisms".
Independent MP Giorgos Davris, formerly of ANEL, was critical of both government and the opposition and asked both sides to "speak the truth", noting that "the communication game will not solve the country's problem". ANEL spokesman Terrence Quick opined that despite government denials early elections were on the cards and predicted that his party would play an important role in a new government alliance, which would not include the current political leaders.
The Communist Party's Nikos Moraitis warned against being caught up in the government-SYRIZA clash, which he dubbed an "artificial polarization" and accused SYRIZA of being "capital's best student". KKE MP Liana Kanelli also characterized the conflict in Parliament an "institutionalized performance".
SYRIZA spokesman Panagiotis Lafazanis was in favor of a national consensus and a gesture of good will proposed to include the occupation loan that Germany owes in the budget. SYRIZA's parliamentary group secretary Nikos Voutsis later complained to President of Parliament Christos Markogiannakis that the debate was a "political set up" as his party was not given time to respond to government accusations.
Kaklamanis returns to New Democracy
The coalition government numbers 155 MPs in Parliament after Nikitas Kaklamanis announced his return to New Democracy's parliamentary group on Thursday. Mr. Kaklamanis explained that he responded to the PM's call for historic party members to unite and agreed to return after a private discussion.
Mr. Kaklamanis had been expelled from New Democracy earlier in the year, in March, when he did not vote along in line with his party in a critical multi-bill vote. At the time Mr. Kaklamanis had expressed his discontent towards his expulsion.
Watch the discussion in parliament live
Ακολουθήστε
στο

Google News
και μάθετε πρώτοι όλες τις ειδήσεις
Δείτε όλες τις τελευταίες
Ειδήσεις
από την Ελλάδα και τον Κόσμο, από