Government says central bank governor wants to 'keep Greece in shackles'
In an unprecedented attack, Dimitris Tzanakopoulos said the Bank of Greece Governor wants to keep the country 'in shackles', because he had proposed a post-bailout precautionary credit line.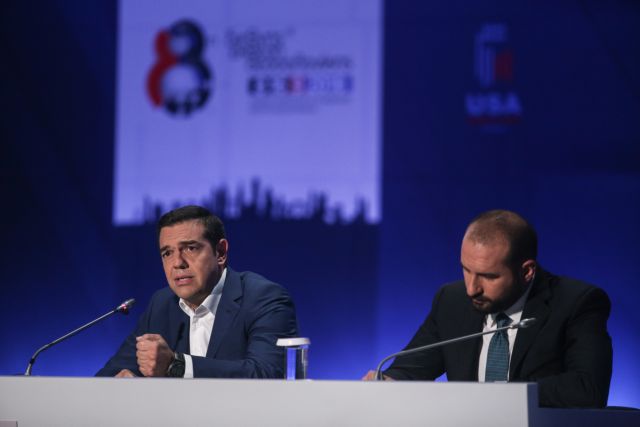 Greece's prime minister Alexis Tsipras delivers press conference during the 83rd Thessaloniki International Fair (TIF) in Thessaloniki, Greece on September 9, 2018. / Συνέντευξη τύπου του πρωθυπουργού Αλέξη Τσίπρα στα πλαίσια της 83ης ΔΕΘ, Θεσσαλονίκη, 9 Σεπτεμβρίου 2018.
Government spokesman Dimitris Tzanakopoulos publicly criticised Bank of Greece Governor Yannis Stournara over his stance regarding the bank shares crash on the Athens Stock Exchange.
Tzanakopoulos said that the "problem" with Stournaras is that he makes [political] interventions when he should not, but when he should, "he appears to be silent".
The spokesman indicated that Stournaras was conspicuously silent as bank shares crashed.
He cited Stournaras' public support for Greece requesting a post-bailout precautionary credit line as an instance of improper intervention.
Stournaras had argued hat was intended to reassure markets and ensure cheaper borrowing for banks and the state.
Tzanakopoulos said that the central banker wanted to keep Greece 'in shackles".
The spokesman said that the government ensures political, economic, and fiscal stability.
He said that it would be well if the central banker were "acting in the same direction".
Moreover, he called on Stournaras to "explain his stance" at some point.
In the past, Stournaras had made clear that a central banker does not comment on developments in the stock exchange, or on the movement of bank shares, because it is not his job.
Tzanakopoulos said the basic position of Greek banks is "very good".
He charged that there are ulterior motives behind the constant monitoring of the stock exchange, and that this is the main opposition's main line of attack.
.
Ακολουθήστε
στο

Google News
και μάθετε πρώτοι όλες τις ειδήσεις
Δείτε όλες τις τελευταίες
Ειδήσεις
από την Ελλάδα και τον Κόσμο, από