Prime Minister Tsipras receives President of Armenia Sargsyan
The President of Armenia Serzh Sargsyan met with the Prime Minister Alexis Tsipras on Tuesday morning, as part of his…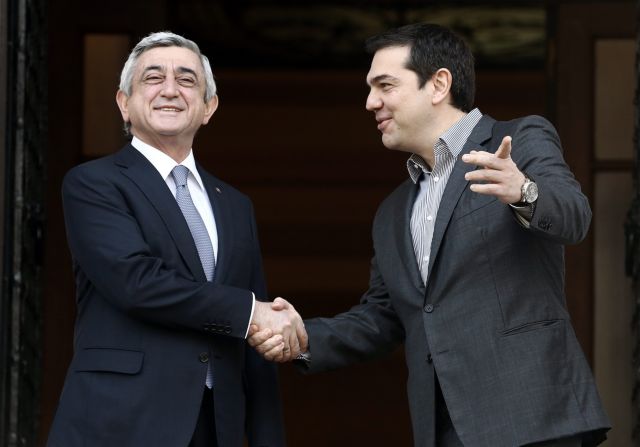 The President of Armenia Serzh Sargsyan met with the Prime Minister Alexis Tsipras on Tuesday morning, as part of his official visit in Greece.
"Our people know what it is to be refugees, to be uprooted… we are on the first line of humanism to address the crisis. I want to believe that the truce in Syria will stop the flow of people. Our countries face these challenges with the head high" argued the Greek PM upon receiving the Armenian President.
Following the meeting of the two leaders, official statements will follow and bilateral agreements are expected to be announced.
The President of Greece Prokopis Pavlopoulos received his Armenian counterpart on Monday and held a banquet in his honor. The two presidents later inaugurated an exhibition on Armenia at the Byzantine & Christian Museum in Athens.