New Democracy to invest in "left-wing interlude" theory
Despite having suffered a major defeat in last weekend's general elections, New Democracy is poised to carry on undeterred…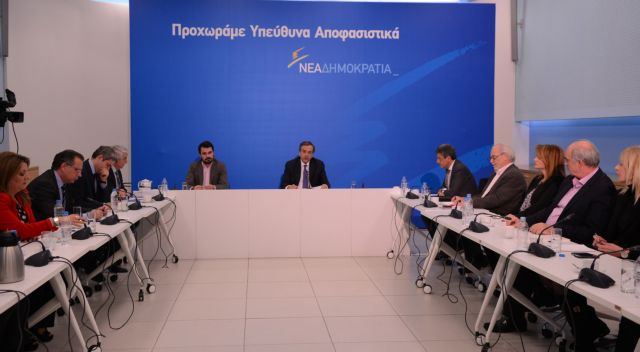 Despite having suffered a major defeat in last weekend's general elections, New Democracy is poised to carry on undeterred, disregarding the final results and stressing the theory that the SYRIZA-led government is nothing more than a "left-wing interlude", as stressed at the party's executive secretariat on Thursday.
The lack of self-criticism though and the leadership's attitude that last Sunday's defeat is a mere challenge has frustrated many prominent party members and MPs, who have made calls for an open discussion, in order to determine the cause of the defeat and to plan for the next day. While the leadership of Antonis Samaras has not been challenged, barring a few exceptions, many are waiting for the right timing to intervene.
Mr. Samaras announced an informal political council which includes the outgoing President of Parliament Evangelos Meimarakis, party secretary Andreas Papamimikos, Kyriakos Mitsotakis, Adonis Georgiadis, Yannis Vroutsis, the party's parliamentary group's new secretary Anna-Michelle Asimakopoulou and the party's nominee for the Vice President of Parliament Nikitas Kaklamanis.
The appointment of Mrs. Asimakopoulou has angered many New Democracy MPs, who argued that it was demeaning for them to receive orders from someone who has only been in Parliament for two and half years.
While the discussion at the secretariat meeting was not in-depth, the president of New Democracy's youth wing ONNED Sakis Ioannidis openly challenged the party's campaign strategy and police, while criticizing Adonis Georgiadis for championing the bailout agreement and the IMF's "tough guy" Poul Thomsen.
Mr. Samaras referred to "mistakes" in his speech, referring however to the campaign's organization. The party leader attributed New Democracy's defeat and the discouragement of voters to rumors suggesting that SYRIZA would in with a major difference. He also noted that his party did not support his reform program and that mistakes were made, as in the case of the controversial ENFIA tax on real estate.
Curiously though, Mr. Samaras said that was "satisfied" with the electoral outcome and claimed that New Democracy was "unscathed", which many interpreted as a challenge to Kostas Karamanlis. Mr. Samaras further added that his party lost the elections with the least loses, even compared "to normal circumstances when it had available money to hand out", further inciting Karamanlis supporters.
Meanwhile the voices of discontent are increasing amongst New Democracy officers, frustrated by Antonis Samaras' leadership. Kyriakos Mitsotakis stated that New Democracy is an old party and the necessary internal processes need to be initiated in order for it to recover and return to power. Evripidis Stylianidis was blunt when he said that "the responsibilities have a name and surname".
Ακολουθήστε
στο

Google News
και μάθετε πρώτοι όλες τις ειδήσεις
Δείτε όλες τις τελευταίες
Ειδήσεις
από την Ελλάδα και τον Κόσμο, από