Golden Dawn trial adjourned once again, until 12th of May
The much-debated Golden Dawn trial has been adjourned, once again, until the 12th of May. The trial was set to resume on…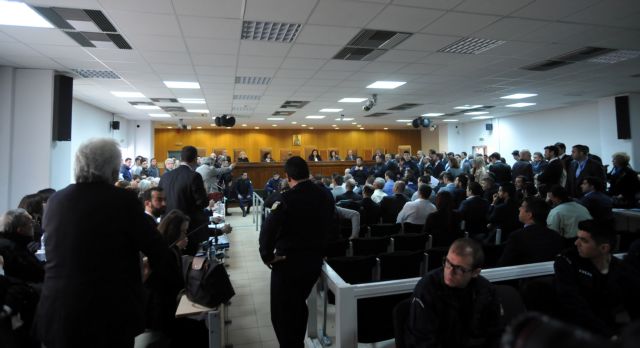 The much-debated Golden Dawn trial has been adjourned, once again, until the 12th of May. The trial was set to resume on Tuesday at the specially-converted courthouse at the Korydallos prison facility, amid demonstrations and protests by various unions, anti-fascist activists and local groups.
The courts rejected the request to transfer the trial to a more suitable courthouse, with the president noting "we are judges, we personally do not have rooms and it is a matter of the political leadership. As soon as it solves the problem, we will move". The courts requested a list of days when Panhellenic exams are scheduled and is considering holding the trials after 2pm.
As on the first day of the trial, schools in the municipality of Korydallos will remain closed. The local authorities have consistently demanded that the trial take place elsewhere, as they claim it will disrupt the operation of nearby schools.
The court allowed the mayor of Korydallos Stavros Kasimatis to intervene in the proceedings and warned that with 400 students in the surround schools set to sit for Panhellenic exams next week, there will be a serious problem to address. The court prosecutor proposed for the trials to take place on Saturdays, in order to avoid disruptions.
Although the leadership of the neo-Nazi party decided to snub the proceedings once again, in an effort to play down the political aspects of the much-debate trial, there was tension in the courtroom. Relatives of Pavlos Fyssas tried to approach Golden Dawn's self-confessed murderer Giorgos Roupakias, however Fyssas' mother urged them to back down.
Two witnesses were assaulted by supporters of the neo-Nazi party on their way to the courthouse on the first day of the trial, with the police failing to provide the necessary security. On Thursday, a 27-year-old man reported that he was assaulted by a group of people who mistook him for a Golden Dawn supporter.
The prosecution has demanded from the Public Order Minister Yannis Panousis to ensure the security of witnesses and to carry out an investigation into the matter.