Theodorakis re-elected as leader of The River on Sunday
Stavros Theodorakis was re-elected as leader of the River on Sunday, receiving 88.16% of the vote, thus concluding the…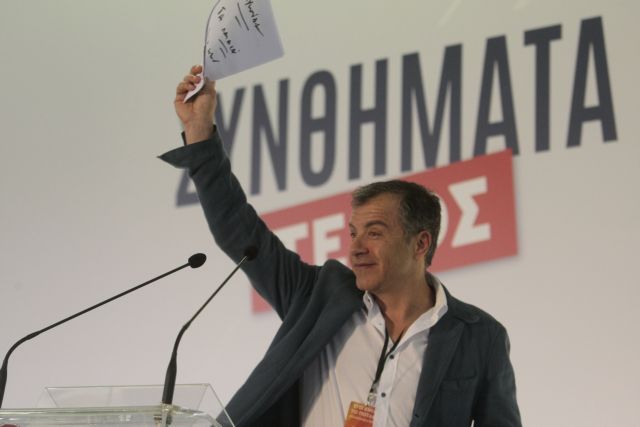 Stavros Theodorakis was re-elected as leader of the River on Sunday, receiving 88.16% of the vote, thus concluding the three-day conference that began on Friday.
Although Mr. Theodorakis' leadership was never directly challenged, Oxford professor Pavlos Eleftheriadis received about 12% of the vote, expressing some of the frustration over the party leader's choices, in light of the party's steady decline in the polls. The party's spokesperson in Parliament, MPs Harris Theoharis, has been highly critical of the party leader and is reportedly considering a departure, although no final decisions have yet been made.
During his address at the conference, Mr. Theodorakis proposed the creation of a "Parliament of the Center", which would include party officers from the River, Democratic Alignment and a host of other smaller, reformist parties and initiatives.
The conference saw the leaders of other opposition parties deliver speeches, many of whom focused their criticism on the government. The head of the Democratic Alignment and PASOK president Fofi Gennimata on the other hand, proposed the formation of a joint committee of respected personalities.
New Democracy's Kyriakos Mitsotakis took the opportunity to lash out against the govenrment and claimed the current administration is the most "obsessive and incompetent" in post-war Greece. The main opposition leader also claimed that his party is the "same side" with the River.
Former PM and PASOK president Kostas Simitis received a warm welcome from the conference-goers when he took the stage. Mr. Simitis underlined the need for a "strong pole between the Right and the absurd and unbalanced Left" and urged the River to participate in such an initiative.
The president of the Union of Centrists Vasilis Leventis however left the conference without speaking, with the party spokesperson underlining that Mr. Theodorakis did not respect the protocol with the list of speakers. The party further commented that the River is a "mosaic of ideologies, without proposals, with shouting and on the same side with New Democracy and PASOK".