General strike on Thursday over pension system reform
The general strike called by ADEDY and GSEE, the country's largest public and private sector trade unions, comes into effect on…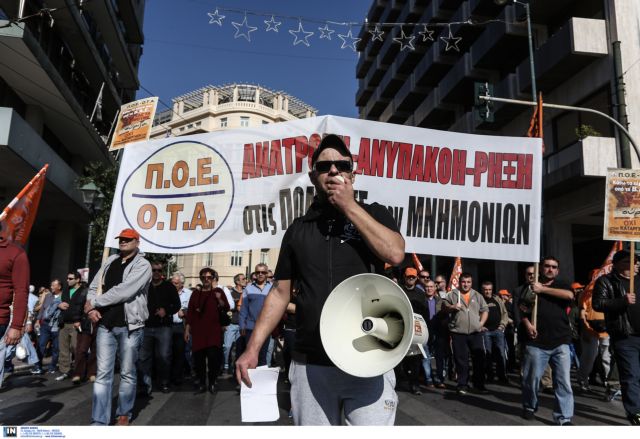 The general strike called by ADEDY and GSEE, the country's largest public and private sector trade unions, comes into effect on Thursday, in response to the new pension reform bill that is expected to be tabled in December.
Aside from hospital employees, the country's media also decided to go on strike on Wednesday, in order to cover the demonstrations and protests which have been scheduled for Thursday.
The main strike demonstration in Athens has been scheduled for 11:00 on Thursday morning at Klafthmonos Square, while the All Workers Militant Front (PAME) has arranged a demonstration on Omonia Square earlier in the day, at 10:00.
About 7 to 8,000 gathered for the ADEDY/GSEE rally on Syntagma Square, while about 8 to 9,000 gathered for the PAME rally on Omonia Square.
Thursday's strike is supported by the nationwide teacher federation OLME, the nationwide seamen federation PNO and the nationwide local government employee federation POE OTA among others.
Busses, trolleys, metro, electric railway and tram services will only run between 9am and 9pm, while the railway and suburban rail will not operate at all during the 24-hour strike.
Lawyers in Athens have announced that they will abstain from their duties in response to the pension reforms and the imminent changes in the Civil Procedure Code.
Clashes break out between protesters and police
Shortly after 1pm a group of anarchists clashed with riot police on Syntagma Square. The anarchists threw rocks and petrol bombs, with the riot police responding with tear gas and stun grenades. Eventually the anarchists headed towards the Propylaea.
Protesters also threw stones and petrol bombs against the Ministry of Finances. Clashes have also broken out between protesters and the police on Klafthmonos Square in the city center.