Tsipras-Merkel meeting: Minor results with greater expectations
The trip of Prime Minister Alexis Tsipras to Berlin on Monday, where he met with German Chancellor Angela Merkel, may have…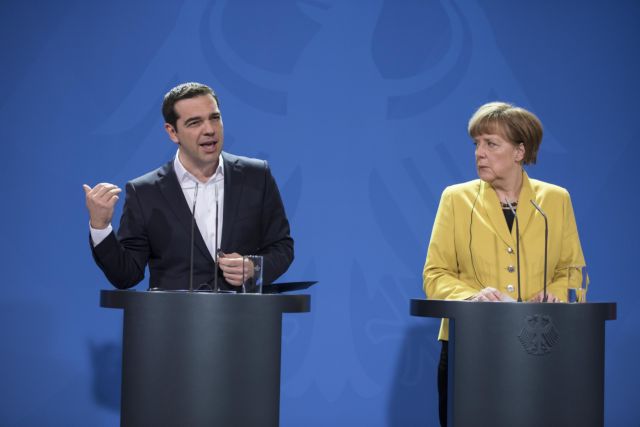 The trip of Prime Minister Alexis Tsipras to Berlin on Monday, where he met with German Chancellor Angela Merkel, may have yielded few results for Greece, but it has generated greater expectations about the future of negotiations.
The main gain from Monday's meeting was the normalization of the relations between Greece and Germany, with Mr. Tsipras highlighting the importance of dialog and coordination. Mrs. Merkel however was quick to rule out any discussions on the German reparations and was reluctant to evaluate – much less adopt – Mr. Tsipras' proposals regarding the implementation of the 20th February agreement.
While the German side could even be deemed insulting at times – Mrs. Merkel stated that Germany cannot provide liquidity to Greece, with Mr. Tsipras reminding her that he did not travel to Berlin to ask for financial aid – the Greek side managed to establish the importance of discussion as the most efficient means in reducing suspicion, dispelling prejudices and solving differences.
Additionally, it became clear to Mr. Tsipras that the German parliament shows signs of fragmentation on certain critical issues; for the first time the opposition parties (Die Linke and the Greens) are being supported by elements of the social democrats in the German reparations affair. The social democrats still reject the Greek claims, but are willing to accept an "indirect solution" (such as supporting memorial funds and other such organizations). Mr. Tsipras also explained that the reparations are more of an ethical and moral issue, than material.
A change of rhetoric
Mr. Tsipras' trip to Berlin also showed a change in the rhetoric of the Greek Prime Minister, where he publicly admitted that the bailout program resulted in a profound fiscal reform. While he avoided calling it a failure, he listed many of the problems it has caused, such as the soaring unemployment and deterioration of social cohesion. The Greek PM underlined that Greece itself is responsible for its problems, rather that others.
According to some estimations, this change of rhetoric may suggest that greater political developments are looming. Nevertheless, Mr. Tsipras is likely to face criticism and resistance within his government and party, particularly from the Left Platform, which may challenge him in Parliament.
Ακολουθήστε
στο

Google News
και μάθετε πρώτοι όλες τις ειδήσεις
Δείτε όλες τις τελευταίες
Ειδήσεις
από την Ελλάδα και τον Κόσμο, από