Editorial: Kitsch, Kammenos and the Left
Ridiculing history in order to serve partisan or so-called national patriot interests is unfortunately a timeless feature…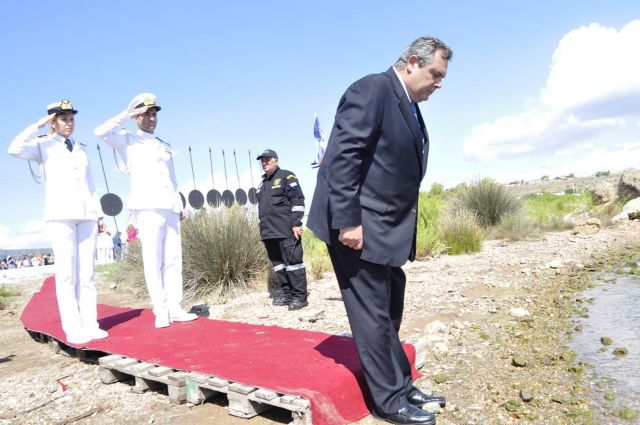 Ridiculing history in order to serve partisan or so-called national patriot interests is unfortunately a timeless feature of a section of politicians. It is a sad remnant of the seven-year dictatorship, when kitsch thrived, that survives to this day with celebrations and ministerial shows of infinite beauty, just like the one that took place in Salamina, with Mr. Kammenos as a protagonist.
With a style that references the unforgettable celebrations of the martial virtue of the Greeks during the dictatorship, the Minister of National Defense wanted to pay tribute to the naval battle of Salamina.
The red carpets on top of wooden pallets, national costumes, flags and tambourines made fun of the protagonists and the military leadership that rushed to submit to the demands of its political supervisor.
It is literally tragicomic, at a time when the country and society are facing so many problems, for ministers to carry out such national-populist fiestas. These are situations that we wanted to believe that were long gone, especially at a time when the left is in power.
It seems though that the stereotype of the perpetually wronged, but always resisting, Greek people, against foreign powers that are constantly conspiring against them, remains strong, at least among a few, who support such shows to strengthen the national-populist feeling.
Only by digging up and making fun of the glorious past achieves nothing more beyond undermining the future. So while Mr. Kammenos may not understand this, others within the leftist government must realize this before it is too late and they are faced with surprises they cannot even imagine…
TO VIMA
Ακολουθήστε
στο

Google News
και μάθετε πρώτοι όλες τις ειδήσεις
Δείτε όλες τις τελευταίες
Ειδήσεις
από την Ελλάδα και τον Κόσμο, από