Confronting the conundrum of treating non-COVID patients in a pandemic
Its impact on non COVID-19 patients who had the misfortune of falling ill or needing emergency care in the middle of a pandemic is dramatic.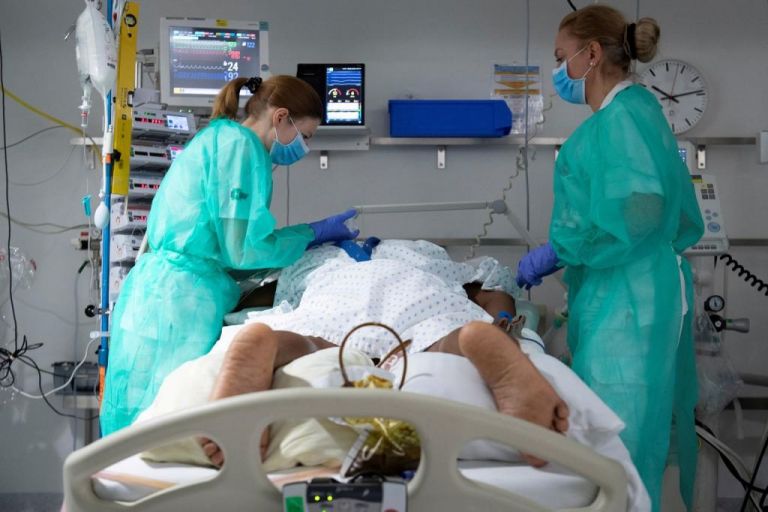 By Professor Gerasimos Siasos *
The pandemic overturned everything we considered self-evident in the international community.
Until now, there have been 140 million confirmed COVID-19 cases and three million deaths, which make it the third deadliest pandemic in human history.
Although three million deaths is a huge number, the cost of the pandemic in terms of human lives is much greater and is difficult to calculate and comprehend.
Its impact on non COVID-19 patients who had the misfortune of falling ill or needing emergency care in the middle of a pandemic is dramatic.
According to a recent study conducted by Britain's NHS, in the first three months of the pandemic, scheduled hospitalisations declined by 1.4 million. Emergency referrals of patients who were believed to possibly have cancer declined by 280,000 and 25,000 diagnosed cancer patients did not begin their treatment.
Studies conducted in Greece and other European countries (Italy and Austria) on patients in need of emergency treatment for cardiovascular disease show a reduction in hospital admissions and skyrocketing heart attack complications.
A major US study drawing on data from 200 hospitals in 36 states found a 24.7 percent drop in admission for stroke cases and a 68 percent decline for Chronic Obstructive Pulmonary Disease (COPD)/asthma cases.
Especially for cancer patients, the repercussions of the pandemic have been dramatic. The timely diagnosis and treatment in early stages are the most important factors for a positive prognosis.
Thousands of cancer patients either did not have immediate access to primary healthcare or did not realise that their disease progressed to a more advanced stage during the waiting period and so their therapy did not have optimal results.
There have been similar delays in all disease prevention programmes including those targeting cervical and breast cancer. A recent study conducted by the university hospital in Ottawa, Canada, found that 64,000 patients' preventive breast cancer screening appointments had been postponed due to the pandemic.
Moreover, the limiting of clinical trials further restricts the choice of end stage patients.
Here, one should note that all these non-transmissible diseases (cardiovascular disease, cancer, and diabetes mellitus) cause 41 million deaths annually and therefore providing immediate and unobstructed medical attention is of vital importance for this enormous segment of the population.
Another major category of patients who have been harmed by the shift in focus of healthcare services are those awaiting scheduled surgery.
In the UK, over 90 percent of scheduled surgeries were postponed during the pandemic. Naturally, anyone who has practiced medicine is well aware of the fact that the difference between emergency and non-emergency surgery is often hard to discern and that it is the post-surgery result that determines the prognosis.
As was expected, the structural changes for the treatment of patients with COVID-19 led to a restructuring of available beds and of clinics. The result is that doctors without specialisation and skills in the particular area of medicine lack the space to carry out their mission.
Research and targeted therapy clinics have suspended their operation, forcing patients to seek treatments in private hospitals. Top university hospital surgery clinics are inert because they have been turned into COVID-19 clinics and that has impacted heavily on surgery patient waiting lists.
A solution entailing a collaboration between the public and private sectors with the possibility of public health system doctors practicing in private hospitals would greatly benefit patients, especially under current conditions.
It is not only patients who suffer due to these bleak realities but also their doctors. The challenges faced by healthcare professionals on a daily basis are unprecedented.
A heavy toll on doctors
For all of us, the priority is to retain our physical and mental health.
A recent study conducted by the American Orthopedic Association demonstrated a substantial increase in anxiety, depression, and insomnia among doctors during the pandemic.
A study conducted by the British Medical Association demonstrated that decisions made based on limited available resources and clinical priorities has been another very important challenge during the pandemic.
In lieu of an epilogue, I shall conclude with the words of Bente Mikkelsen, director of the World Health Organisation's Division of Non-Communicable Diseases.
"It will take a long time for us to fully understand the impact of COVID-19 on the global population. The most important thing is for us to structure a strong global health system that is suitably prepared to anticipate, diagnose, and treat similar situations in the future."
* Gerasimos Siasos is Vice Dean and Professor of Cardiology at the National & Kapodistrian University of Athens Medical School, and President of the Aretaieio and Aiginiteio University Hospitals in Athens.
Ακολουθήστε
στο

Google News
και μάθετε πρώτοι όλες τις ειδήσεις
Δείτε όλες τις τελευταίες
Ειδήσεις
από την Ελλάδα και τον Κόσμο, από