Confusion over exact number of Norman Atlantic passengers persists
The Italian authorities have raised the number of people who died in the Norman Atlantic tragedy to 13, after recovering the…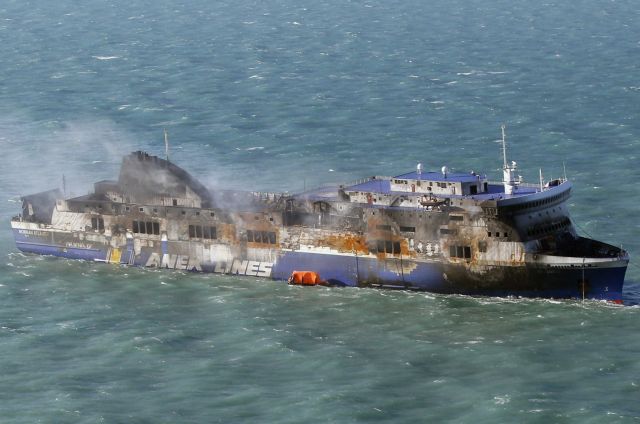 The Italian authorities have raised the number of people who died in the Norman Atlantic tragedy to 13, after recovering the remains of a woman. Two of those confirmed to have died are Greek citizens. Meanwhile, the confusion regarding the precise number of passengers on board the Norman Atlantic persists, with the Italian and Greek authorities giving different figures.
The Greek authorities on the other hand have confirmed 11 deaths, with the son of Giorgos Doulis – whom the Italian authorities named as the first of two Greek citizens to have perished – not having confirmed his father's identity when he was taken to the morgue in Italy.
Italian and Greek Prosecutors launch investigations
In a press conference on Tuesday the prosecutor of Bari Giuseppe Volpe spoke of 499 people being on board, claiming that many migrants were hiding in the ship's cargo hold. Mr. Volpe argued that the presence of three migrants has been confirmed – two Afghans and one Syrian – one of whom has asked for political asylum.
According to the Italian prosecutor there were at least 18 excess passengers on the Norman Atlantic, while Italian admiral Giovanni Pettorino stated that 80 people who were rescued were not included on the passenger list. The judicial investigation is primarily based on witness reports and data recovered from their mobile phones.
The Minister of Shipping Miltiadis Varvitsiotis has formally requested that Supreme Court Prosecutor Efterpi Koutzamani expedites the investigation into the nautical tragedy. Mr. Koutzamani has tasked the prosecutor of Piraeus into launching a criminal investigation for the felony charges of arson and disrupting maritime transportation that resulted in fatalities.
Two Albanian seamen killed during tug operation
It was also reported on Tuesday that two Albanian seamen who were on a ship tugging the Norman Atlantic were killed on Tuesday. The two seamen appear to have been struck by a cable that snapped. The Albanian Ministry of Defense confirmed that the tragic incident took place near the shores of Avlona, during the maneuvers to tug the burning ship to safety.