Former PM Giorgos Papandreou defends his political choices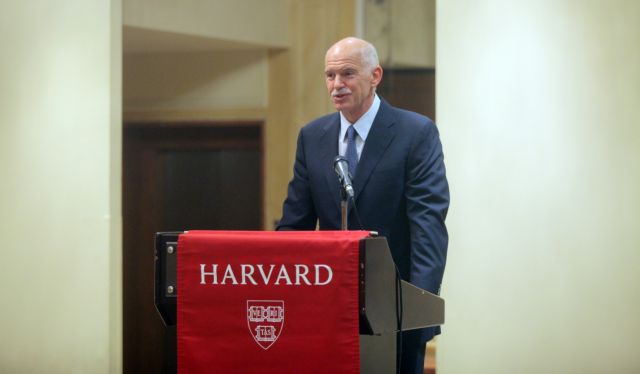 The former Prime Minister Giorgos Papandreou told the Greek Harvard Alumni association, which held an event in down town Athens on Thursday evening, that he "never left" and that he "will always be here", while arguing that he was ousted due to competing political and financial interests.
Mr. Papandreou noted that after huge sacrifices, the Greek people have the moral right and obligation to demand straight answers from the international community. The former Prime Minister was critical towards Greece's EU partners, claiming that it did not act efficiently to curb the escalating deficit and debt, making the fiscal consolidation and austerity necessary.
As expected, Mr. Papandreou defended his choices and professed that he defended European values, rather than subvert them. Mr. Papandreou stressed the achievement of establishing a support mechanism "in record time and after difficult negotiations" and opined that "Greece did not go bankrupt or experience the national tragedy of a violent default in 2010", despite the unprecedented loans and debt haircut.
When asked what lies ahead of Greece after the current aid program ends, the former Prime Minister warned that unless the changes and reforms are pushed forwards, then a new bailout and aid program is on the cards. Nevertheless, Mr. Papandreou was optimistic that would no be the case and criticized the pro-bailout/anti-bailout dichotomy.
Mr. Papandreou explained that in the post-bailout Greece it is imperative to bring significant changes to the state's foundations, beyond the scope of a constitutional review, involving referendums and other such participatory procedures. Paramount to effecting change though is to agree upon a set of values and principles.
Regarding the emergent NGO scandal
Members of the audience indirectly asked Mr. Papandreou over his involvement in the NGO scandal, but questioning him how the people can trust political leaders when such "fraud" is taking place. Mr. Papandreou explained that the current NGO inspection framework was established during his tenure and conceded that it could have been stricter.
The former PM claimed that the criticism has been hyperbolic and that the media are present NGOs as inherently "evil" and wasteful. Mr. Papandreou stressed the importance of NGOs in Greece and how they have helped diplomatically in the Balkans and the Middle East. The former Prime Minister concluded that justice should intervene whenever wrongdoing is noticed.
Ακολουθήστε
στο

Google News
και μάθετε πρώτοι όλες τις ειδήσεις
Δείτε όλες τις τελευταίες
Ειδήσεις
από την Ελλάδα και τον Κόσμο, από