Seirlis: "Golden Dawn is an organization of crazies who want to murder"
The Golden Dawn trial continued on Thursday with the testimony of eye witness Pavlos Seirlis, who was present at the Koralli…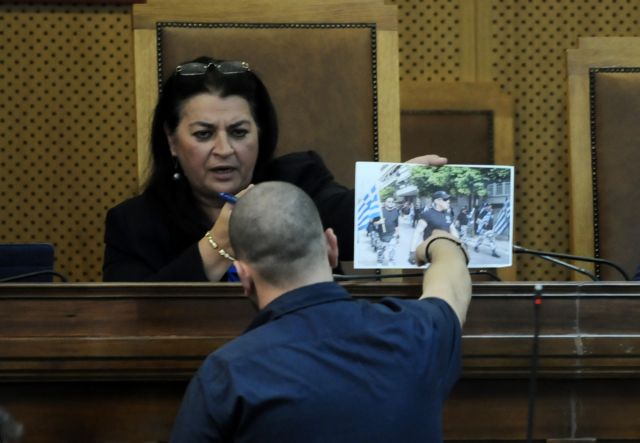 The Golden Dawn trial continued on Thursday with the testimony of eye witness Pavlos Seirlis, who was present at the Koralli café were Pavlos Fyssas was hanging out before he was murdered. The sister of the murdered activist, Irene Fyssa, was unable to testify due to childbirth-related health issues.
According to the eye witness the attack against Fyssas was planned and he described the neo-Nazi party as an "organization of crazies who want to murder, irrespective of gender or nationality". Mr. Seirlis argued that Golden Dawn MP Yannis Lagos gave the order for the attack and explained that "when you give an order that fifty people follow, then you are something…".
Mr. Seirlis told the court that "when you are carrying weapons, you are not going to pet the victim" and saw the self-confessed murderer, Golden Dawn member Giorgos Roupakias, arrive in a car with other defendants currently on trial. The eye witness noted that a group of Golden Dawn supporters clad in combat fatigues and black shirts stood menacingly outside the café, one of whom was carrying a bat. A group of DIAS police officers also appeared.
When about 30-40 Golden Dawn supporters gathered across the café they began goading the group of Fyssas to "come out so we can slaughter you" and chased the group. Meanwhile another DIAS police group arrived. Seirlis noted that he was also assaulted by the group of Golden Dawn supporters and managed to hide away, however Fyssas was isolated. At that point he saw Roupakias arrive in his car.
Seirlis later explained that when he finally spoke to a police officer, he was handcuffed and taken to the Keratsini police department, without understanding why. He asked not to be placed in a cell with "people from the other side" and later found out that the man who was already inside the cell was indeed the murderer. The eyewitness told the court that Roupakias was constantly on his mobile phone and claimed that he was simply a "passer-by". As soon as Seirlis found out that Fyssas had died, Roupakias promptly asked to be taken to another room.
The trial will resume on Tuesday the13th of October.