Kammenos: "Consensus only after general elections"
The leader of the Independent Greeks Panos Kammenos met with the honorary president of New Democracy and former Prime…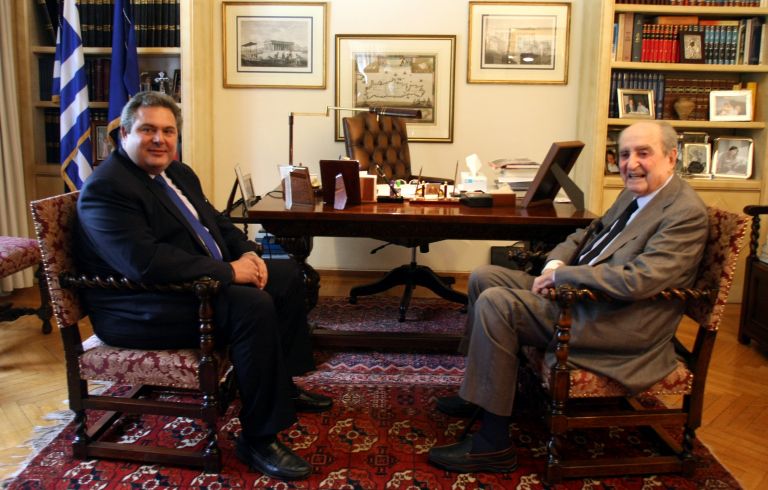 The leader of the Independent Greeks Panos Kammenos met with the honorary president of New Democracy and former Prime Minister Konstantinos Mitsotakis on Thursday morning and discussed the Presidential elections.
Following the meeting, Mr. Kammenos told journalists that Mr. Mitsotakis urged him to work towards a consensus, in order to avoid a political impasse, with the ANEL leader responding that such a solution can only occur after general elections.
The honorary New Democracy president expressed his concern over the government's failure to meet expectations in Wednesday's vote and his fear of the serious dangers that may emerge, should the country enter a state of uncertainty and doubt.
The former Prime Minister is said to have told Mr. Kammenos to «do his duty«, stressing that the critical negotiations with troika have not yet concluded and that general elections could cause further problems.
Mr. Mitsotakis did not ask Mr. Kammenos to support Stavros Dimas' candidacy, but rather for all the parties to maintain a national policy regarding the economy. Mr. Kammenos ruled out such a possibility before elections, stressing that they are necessary "even if Samaras and Venizelos leave".
Additionally, the ANEL president stressed that there is a fundamental difference of opinion with Mr. Samaras and Mr. Venizelos and argued that the coalition government has already agreed to two bailout deals (one with the IMF and one with Europe), rendering any agreement to postpone general elections pointless.
Finally, Mr. Kammenos revealed that he has had frequent conversations with the honorary New Democracy president and opined that things "would be different" for Greece, had the Mitsotakis government not been overturned in 1993.
Ακολουθήστε
στο

Google News
και μάθετε πρώτοι όλες τις ειδήσεις
Δείτε όλες τις τελευταίες
Ειδήσεις
από την Ελλάδα και τον Κόσμο, από