Independent Greeks MP Xoulidou alleges bribery attempt
The Independent Greeks (ANEL) MP Stavroula Xoulidou has alleged that at attempt was made to bribe her in order to vote for a…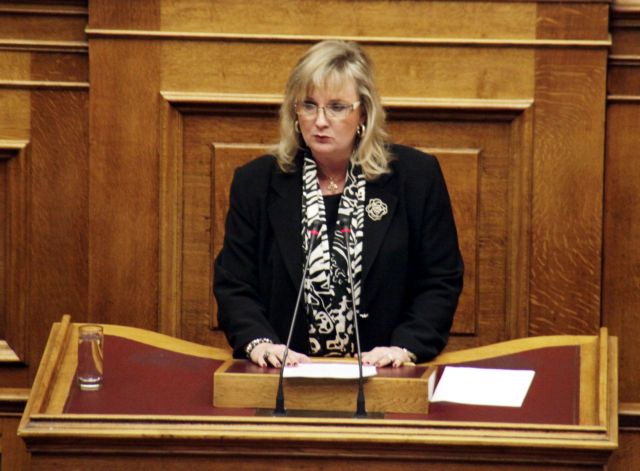 The Independent Greeks (ANEL) MP Stavroula Xoulidou has alleged that at attempt was made to bribe her in order to vote for a President in the upcoming election in 2015. The Supreme Court Prosecutor Efterpi Koutzamani has ordered an investigation in the MP's serious allegations.
ANEL president Panos Kammenos has confirmed the accusation and named a person who appears to have acted as a "middleman" in the attempted bribery. Earlier in October, SYRIZA spokesman Panos Skourletis had cited a newspaper article that revealed attempts to bribe MPs in the upcoming Presidential election, prompting an investigation. Appeal Court Prosecutor Panagiotis Panagiotopoulos carried out a preliminary investigation and decided that there were no indications of MPs being bribed.
The case file will be reopened though, as Mr. Kammenos alleged on Tuesday evening that his MP was approached to vote for a President. Mrs. Xoulidou later revealed that she was approached by a New Democracy officer who offered her a 3-million-euro "present" to vote for a President. The ND officer in question is believed to work closely with the government.
The ANEL MP also noted that in an email that was sent to her it is alleged that ANEL MP Panagiotis Melas had already accepted a bribe to vote for a President, in an effort to sway her. Mr. Melas – who recently announced that he would consider voting for a President, going against the party's line – has denounced the charges and demanded explanations. He also warned that he would file complaints against such slander.
«Think about the future of your children»
Mrs. Xoulidou gave an interview to Vima 99.5 FM on Thursday morning, further elaborating on her claims. The ANEL MP explained that the man who approached her was named Soukouris and introduced himself as an employee at the officer of New Democracy MP and Deputy Growth Minister Notis Mitarakis, which he has disputed.
According to Mrs. Xoulidou Soukouris approached her via Facebook and gave her his telephone number. Soukouris told her that there was "2-3 million euro tariff" for bribing MPs, while urging her to "think about [her] future" and to "secure the future of [her] children". He also revealed that Mr. Melas had already been bribed.
Ακολουθήστε
στο

Google News
και μάθετε πρώτοι όλες τις ειδήσεις
Δείτε όλες τις τελευταίες
Ειδήσεις
από την Ελλάδα και τον Κόσμο, από