Tsipras blasts ND at televised TIF news conference
«We disagree with New Democracy's growth model and we believe it can't lead us to growth» Tsipras said.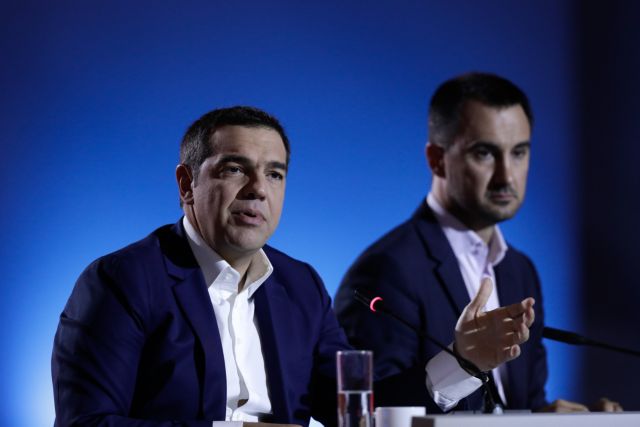 «SYRIZA's target is a constructive and strong opposition» SYRIZA leader Alexis Tsipras said at a press conference at Thessaloniki International Fair (TIF) on 15 September.
He said that SYRIZA has great experience in Greece's political life and will not resort to scaremongering.
«We disagree with New Democracy's growth model and we believe it can't lead us to growth» Tsipras said.
«Yes to growth but with a specific orientation, with transparency and rules that will protect our cultural heritage,» he declared.
Asked if he is going to ask for snap elections as Mitsotakis  did when he was in the opposition, the SYRIZA leader said «My name is Tsipras not Mitsotakis» and he asserted that no government declares early elections just because the opposition demands it.
Tsipras said he is proud of the Prespes Agreement which, as he said, will go down in history adding that he did not step back in fear of the obvious political cost.
He noted that a Gordian Knot of foreign policy was resolved with the agreement and the foundations for peace and good neighbourly relations were laid and we reaffirmed the Hellenic history of Macedonia.
Referring to SYRIZA's tax policy he said that the elections result shows that our measures were not consolidated. He said that his feeling is that Mitsotakis created huge expectations on the issue (tax relief) that will be, very soon, proved wrong.
«We will all be judged» he said adding that the high expectations will turn into a boomerang because the citizens' reality can't be formed on communication conditions as they will see hikes on the PPC rates and other increases in other indirect ways.
«It is better to promise what you can do than create huge expectations» he noted and underlined «We promised to seek this other way until the end and this was not a lie. It was a promise we kept until the end».
Referring to his party, Tsipras said that SYRIZA has open procedures without any kind of omerta, something that exists in other parties adding that all the issues are open and will be discussed openly.
On PPC  Tsipras said that the discreditingo of a company in order to sell it is part of the neoliberal manual and accused Energy Minister Kostis Hatzidakis of trying to gain the social consensus adding that he did the same with Olympic airways and the only thing he achieved was «to go from the public monopoly to the private monopoly».
He said that SYRIZA had a plan to address PPC's problems which would not burden the consumers and a plan for new investments and for the streamlining of its expenses. He charged the government of methodically preparing the sale of the company's assets to private interests by discrediting it.
He said the hike on PPC's rates will burden the middle class On the relations with the Church, Tsipras said that SYRIZA made an agreement that was a step forward for the country and paved the way for a more distinct role, it financially supported the Church without allowing the involvement to the state's issue and vice versa.
On the government's course so far, Tsipras said that there are some positive points «for example it has announced that it will honour the Prespes Agreement and that will, more or less, follow the same foreign policy and of course the fact that Mr. Mitsotakis did not dare to say that he received chaos».
«When I say we will be a constructive opposition I mean that we will not distort the facts and say that the economy is not doing well when it does but SYRIZA will exercise strong opposition when there is violation of the acquis and of the equality» Tsipras explained.
Source: Athens News Agency