European Commission revises Greek growth projections, stresses reforms
'Commitment to reforms is key to further growth. The current forecast rests on an assumption of no policy change for fiscal policy in 2019 and 2020. This is projected to result in a primary surplus of 3.9% of GDP (ESM programme definition).'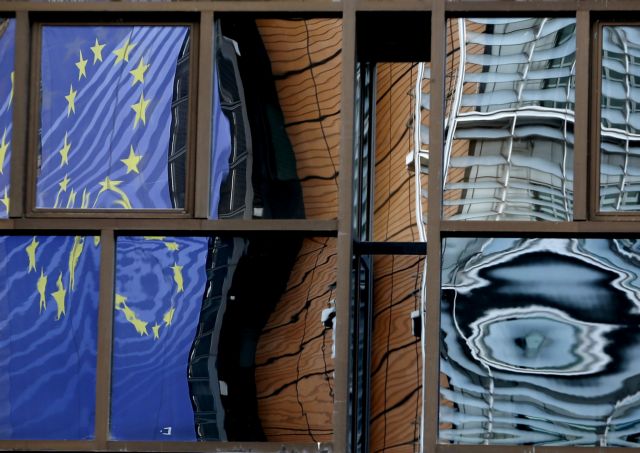 FILE PHOTO: The facade of the European Commission headquarters is reflected in the windows of the EU Council building in Brussels, Belgium, May 20, 2015. REUTERS/Francois Lenoir/File Photo
The autumn forecast of the European Commission on the Greek economy, released today and entitled Programme Exit Amid Strengthening Recovery, indicates that there will be a stable, two percent growth rate over the next three years.
"The forecast is based on a no-policy-change fiscal scenario for 2019-2020 with implications for the macroeconomic outlook and as such, it is not directly comparable with the previous forecasts. Once the fiscal package reaches the 3.5% of GDP primary surplus target and is finalised, the forecast will be duly adjusted," the report states.
The report stresses that the growth rate is contingent upon the steadfast implementation of reforms.
"Commitment to reforms is key to further growth. The current forecast rests on an assumption of no policy change for fiscal policy in 2019 and 2020. This is projected to result in a primary surplus of 3.9% of GDP (ESM programme definition). Negotiations for the 2019 budget are ongoing, and it is expected that the final package of measures will lead to a primary surplus of 3.5% of GDP for 2019. In this event, real growth rates would be higher and could reach 2.3% of GDP in 2019-20, which is in line with earlier Commission forecasts," the report states.
Investment expected to contract
"For 2018, GDP growth is slightly revised to 2.0%, up from 1.9% earlier, on the back of improved consumption dynamics. Investment is expected to contract this year, as the rebound in construction is seen as insufficient to balance the contraction in equipment investment."
Exports the motor of growth
"Greece's export shares have started to increase after several years of decline. Due to falling investment, imports have been markedly lower than anticipated. Net exports are therefore expected to be the main contributor to growth this year. Based on the no-fiscal-policy-change assumption, growth is forecast to remain at 2.0% in 2019 and 2020. "
"Investment is expected to become an important driver of growth as structural reforms start to bear fruit, provided that post-programme reform implementation is strong. Imports are expected to rise as investment rebounds and net exports thus turn negative."
Unemployment rate to drop by 1.8% in 2018, down to 17% in 2020
"The labour market recovery continues. Employment is expected to grow by 1.8% in 2018, bringing unemployment below 17% by 2020. HICP inflation is forecast to reach 0.8% this year, and to accelerate further in 2019 as the output gap closes and energy prices rise. With the expected decline in oil prices in 2020, inflation is set to decrease."
Gradual wage increases, fears of' policy slippage'
"Real wages are expected to rise gradually, in line with productivity gains. The forecast also assumes that reform momentum will be maintained, providing credibility and a good investment climate. Downside risks include: domestic policy slippages as well as adverse external developments related to international financial markets and geopolitical developments Public debt is set to decrease rapidly The general government balance is projected to record a surplus in 2018, the third year in a row."