Avramopoulos confirmed as government's Presidential candidate
The European Commission of Migration, Home Affairs and Citizenship Dimitris Avramopoulos appears to be the government-…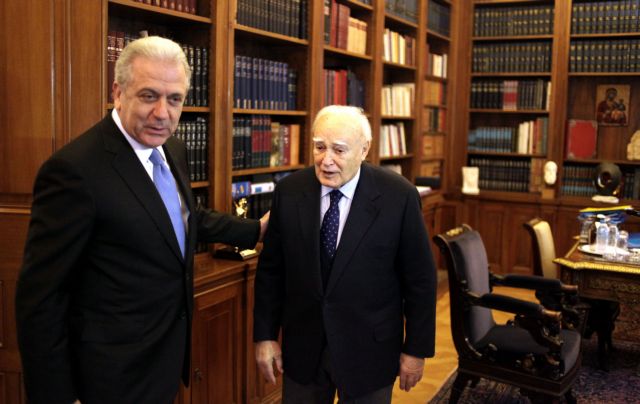 The European Commission of Migration, Home Affairs and Citizenship Dimitris Avramopoulos appears to be the government-sponsored candidate in the upcoming Presidential election, according to sources who spoke to To Vima. The likeliest date for the first vote, which will require 180 positive votes, is Friday the 13th of February.
The Prime Minister and SYRIZA president Alexis Tsipras agreed with the Minister of National Defense and Independent Greeks president Panos Kammenos that Mr. Avramopoulos should succeed Karolos Papoulias as President of the Republic. This development is expected to cause further tension in New Democracy, as Mr. Avramopoulos remains popular amongst the opposition party members.
It is uncertain how Mr. Samaras will respond to this development and whether he will continue to support the candidacy of Stavros Dimas, after failing to be elected in the previous three votes in December. Furthermore, New Democracy officers stress that it would be unwise for their party leader to challenge Mr. Avramopoulos' candidacy, as Prime Minister Tsipras' move is seen as a historic compromise.
Nikitas Kaklamanis reportedly stated that if SYRIZA were to propose Mr. Avramopoulos to run for President, then New Democracy should be the first party to support him. Evangelos Meimarakis is also said to have supported Mr. Kaklamanis' view when he recently met with party leader Samaras.
Various officers of the European Peoples' Party however are discontent with this development, as it could mean that the center-right would lose a valuable officer, who may be replaced by someone from the radical left. Mr. Avramopoulos' replacement in the Commission may also receive a different portfolio.
Government disputes confirmation of candidacy
Meanwhile the government spokesman Gabriel Sakellaridis has denied any agreement for Mr. Avramopoulos being a candidate in the Presidential elections. Mr. Sakellaridis underlined that the government's priorities lie in restoring Greece's place in Europe and preparing it policy statement.