Tsipras' major turn
"By managing poverty, there can be not prosperity or prospect. The country needs…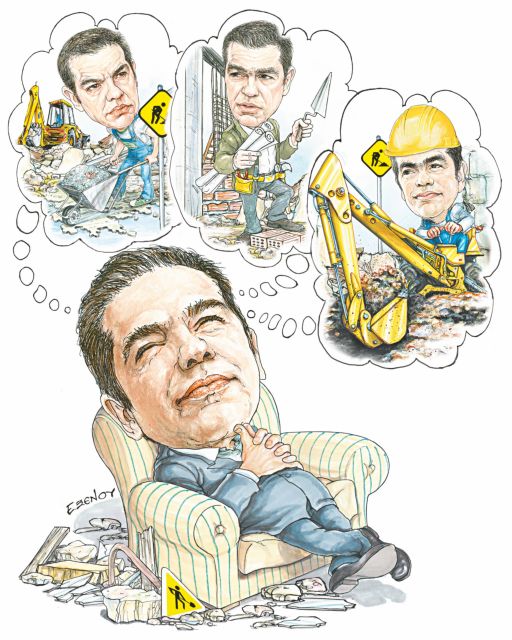 "By managing poverty, there can be not prosperity or prospect. The country needs new capital investment on a massive scale – which we will now look from, especially abroad, where there is a declared interest as available investment resources, able to change the environment and atmosphere in the Greek economy." That is how senior government officials describe the "new Tsipras doctrine", the new "political – economic plan", which, according to government assurances, will be implemented immediately after the SYRIZA conference scheduled for late September.
In essence the government is heralding a "generous turn", which comes as a result of fully understanding international correlations and domestic circumstances.
A leap of progress and grow is required
After his recent meetings with foreign leaders, the Prime Minister appears to have understood that without a major lead of progress and growth, Greece will not stand back up on at is feet and sooner or later it will find itself in a new cycle of recessions, underdevelopments and generalized instability.
Mr. Tsipras' realizations and current plans are a far cry from those of the first period. Governing and the needs, as well as the burden and responsibility for the country have literally transformed him, to the point where he is revising his ideological and political beliefs.
The new growth model he describes has nothing to do with earlier declarations and unrealistic aspirations regarding the alleged overgrowth of social economy. Now all that is rendered correctly as poverty management methods, which in no case can they bring the necessary growth that the country needs.
Mr. Tsipras – to the extent that his turn can be confirmed – appears to have realized that there is no other path other than establishing financial stability and attracting foreign investments.
Once could say that he was charmed by the Chinese example and appears to have fully absorbed the Chinese post-communist liberal doctrine. Perhaps he has been influenced by his regular contacts with Chinese politicians and businesses, but he is definitely guided by the harsh Greek reality, which leaves no room for doubt.
Unless the Greek economy finds ways to attract international investments, it will wither away, while managing and ever-increasing poverty, which of course it does not deserve or any leadership for that matter, irrespectively of how negative and demeaning it might have been towards liberal capitalism.
A prominent businessman recent commented that "his turn is necessary and stems from the responsibility and urgent needs of governing a bankrupt country".
The Prime Minister of course knows that the required "leap of progress" cannot come so long as his government does align itself with this target and that most of his ministers are constantly raising objections, rather than supporting investments.
Headed for the government's complete reconstruction
Asked how to overcome the obstacles of the imminent turn, his associates argue that the issue will be raised at the party conference, followed by government reshuffle, with significant changes in people, roles and duty, in order to best serve the new political goals.
"Things will improve, that is our belief" they note, underlining that "this will not be a mere reshuffle, but a full reconstruction of the government" capable of supporting the goal of attracting new investment funds.
In support of the aforementioned, sources report that as of late Mr. Tsipras has been meeting and talking with distinguished economic and political divs, which have no organic or otherwise relationship with SYRIZA. The government is tightlipped about any ministers to be replaced. The Prime Minister is careful to avoid any references to people and not even his closest associates are aware of who will leave, who will be move and who will have more or less duties.
It estimated that there will be changes in productive ministries, especially those related to private investments, energy, the environment, infrastructure and shipping.
The case of Nikos Pappas
Most consider State Minister Nikos Pappas will be moved, as it is said that he has asked to be exempt from his duties in relation to the media. It seems that he understands that he is being wasted on a personal level and above all, he understands that it is very hard to explain even to his comrades the shift of the television market from a so-called state of "entanglement" to a "mafia" state, as suggested by SYRIZA MEP Kostas Chrysogonos.
Mr. Pappas is a unique case. He has power, is treated as such and is the person who represents the Prime Minister in unofficial talks with businessmen and interest groups. He has seen everyone, made promises to many and undertakes secret mission both within and outside the country; he is overexposed to criticism and comments and it said that he would rather assume a productive minister to demonstrate is skills. His possible transfer elsewhere will mean a lot and likely signal the "other path".
In any case, in order to succeed, the "turn" of Mr. Tsipras will require serious political adjustments, unity on the home front and alliances on all levels. For the time being Mr. Tsipras is enjoying the tolerance, if not cover, of foreigners; Europeans and Americans – for their own reasons – support him and there does not seem to be any reason for that to change in the visible future.
They consider him to have made Greece "compliant", the banks became theirs and the business environment will greatly be determined by their intentions. Since the country has become cheaper, fully controlled and up for sale and it is their problem to consider the risks and take action. The government does not expect major pressure in the fall over the labor reforms or public finances. Perhaps it will be pressured to reject troublesome businessmen or at least those they consider responsible for the suspension or reform via the non-performing loans, but that's about it. Especially after the fiscal "favors" to Spain and Portugal, Athens does not expect major pressure.
Difficulties on the domestic front
If Mr. Tsipras truly has made the major step and fully opened the country to foreign funds, they have no reason to dispute him and seek an alternative in the opposition, where officers and group are flirting with him and doing everything they can to chip away at Mr. Mitsotakis.
The truth is that as far as official political alliances go, the Prime Minister has note achieved much. Only Mr. Leventis is desperate, according to a government official, but is not quiet enchanting the government. The Prime Minister primarily banked on PASOK and Mrs. Gennimata. With her he wanted to "build" a political relation which would allow him to switch over to European social democracy, but he has failed. The Prime Minister's associates argue that Mrs. Gennimata cannot deny Mr. Venizelos or even Mr. Loverdos. That is why they do note expect anything, although they claim that they can wait.
In any case, Mr. Tsipras is preparing for the major turn in the fall, with the hope that growth in 2017 can reverse the attrition that looms. His associates argue that if they do not make it, they will be in trouble, expressing their full awareness of the mood prevailing in Greek society.
Antonis Karakousis
Originally published in the Sunday print edition
Ακολουθήστε
στο

Google News
και μάθετε πρώτοι όλες τις ειδήσεις
Δείτε όλες τις τελευταίες
Ειδήσεις
από την Ελλάδα και τον Κόσμο, από