"Initiative of 58" withdraw from "Olive tree" EU ballot!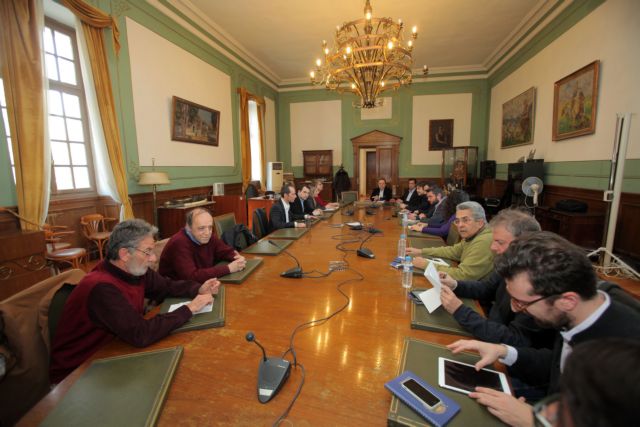 The center-left faces a new "crisis" of sorts, as it was revealed yesterday that the "Initiative of 58" will not formally participate in the upcoming European elections under the "Olive tree" banner as previously though, but rather they will help in the organization. The rumors circulating on Tuesday suggested that the 58 and PASOK had come to a disagreement, with most of the "58" members expressing their discontent, as they had not been informed of these developments.
Meanwhile representatives from the parties and factions comprising the "Olive tree" coalition had an informal meeting on Tuesday for the upcoming elections. Amongst them were representatives from PASOK, Agreement for New Greece, the Initiative of 58, as well as the Dynamic Greece, Society 2012, Initiative B, Ahead and New Reformers movements. The representatives signed a declaration confirming their participation in the upcoming European elections under the banner "Olive Tree – Democratic Faction" or "Olive Tree – Progressive Faction".
The "58" explained that they will participate in the organizational side of the Olive tree coalition, but will not run in the elections as they are not a formal component in the coalition such as any of the other political parties that are participating. Nevertheless, any of the "58" who wish to run in the elections, will be do so as individual candidates, rather than under the banner of the "58".
This development has caused some embarrassment to Mr. Venizelos, who expected a greater conglomeration of center left parties and factions. Additionally, DIMAR members, such as Spyros Lykoudis, Grigoris Psarianos and Andreas Papadopoulos did not join the Initiative, as previously thought. In a statement on these developments, Mr. Venizelos kept a low profile and conceded that the "58" had less of an organizational and more of a political and programmatic role.
The reluctance of the "58" can be attributed to the disagreement among members of the Initiative regarding elections; one faction believes that they should focusing their efforts on reforming the center left and avoid entering the electoral race, while the other side has adopted a more proactive stance.
Furthermore, there appears to be some dissatisfaction amongst the 58 that the "Olive tree" is turning out to be an opportunity for PASOK to reform, rather than to support and develop the center left as a whole. Additionally, the representatives of the "58" noted that Mr. Venizelos made rather vague and unconvincing promises in their discussions.
Ακολουθήστε
στο

Google News
και μάθετε πρώτοι όλες τις ειδήσεις
Δείτε όλες τις τελευταίες
Ειδήσεις
από την Ελλάδα και τον Κόσμο, από