Supreme Court Prosecutor orders probe of use of funds earmarked for refugees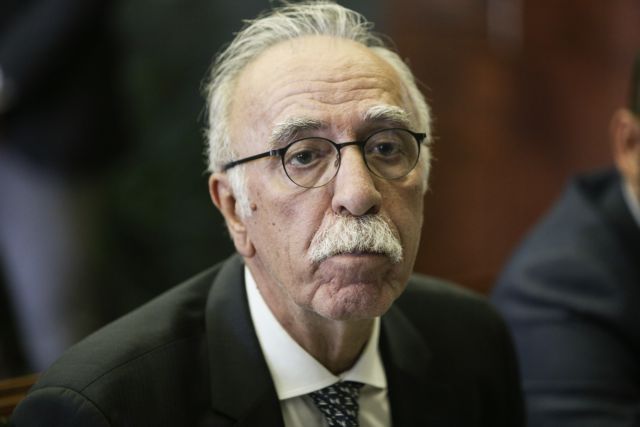 Meeting of the Minister of Citizens' Protection Olga Gerovasili, with the European Commissioner for Migration, Home Affairs and Citizenship Dimitris Avramopoulos, and the Minister of Immigration Policy Dimitris Vitsas, at the Ministry Of Citizen Protection, in Athens, September 19, 2018. / Συνάντηση της Υπουργού Προστασίας του Πολίτη Όλγα Γεροβασίλη, με Επίτροπο Μετανάστευσης, Εσωτερικών Υποθέσεων και Ιθαγένειας, Δημήτρη Αβραμόπουλο και τον Υπουργό Μεταναστευτικής Πολιτικής Δημήτρη Βίτσα, στο Υπουργείο Προστασίας του Πολίτη, στην Αθήνα, 19 Σεπτεμβρίου, 2018.
The Supreme Court Prosecutor's Office has instructed Economic Prosecutor Marianna Psaroudaki to conduct a preliminary investigation into the use of funds earmarked for managing the refugee crisis, in order to ascertain the validity of allegations of automatically prosecutable crimes.
Psaroudaki has already summoned witnesses, including retired Lieutenant-General Andreas Iliopoulos, the former director of the service for the Reception and Identification of Refugees, who lodged the related charges.
The probe was triggered by reports in the Athens daily Fileleftheros, including an interview with Iliopoulos, who was responsible for the reception and identification of refugees on the Aegean islands of Lesvos, Chios, and Kos, as well as at the guard post at the Greek-Turkish border region of Evros.
In his interview, Iliopoulos said that there are indications of a widespread mismanagement of funds, both by the state, including the Defence Ministry, and NGOs.
Iliopoulos urged competent EU and Greek authorities, including prosecutors, to seek data and conduct an in-depth investigation.
"Things are out of control, and it is time for the prosecutors to intervene. They will decide if there have violations of the law, and then judicial authorities will decide whether they will move forward. I say that things are out of control. There is chaos at the moment," he said.
In response, Migration Minister Dimitris Vitsas had stated that these were "lies", and that legal proceedings will be launched against Iliopoulos, for "all he has falsely maintained».
Indeed, Vitsas had pre-announced the sacking of Iliopoulos, saying that he had not competently carried out his duties, and that this is why on 5 October he gave the Lieutentant-General an opportunity to resign.
Iliopoulos answered Vitsas with the demand that the minister clarify precisely what he means by the assertion that he was "incapable of carrying out his duties", and what exactly is false about his charges.
Ακολουθήστε
στο

Google News
και μάθετε πρώτοι όλες τις ειδήσεις
Δείτε όλες τις τελευταίες
Ειδήσεις
από την Ελλάδα και τον Κόσμο, από