Editorial: Europe's big day
Over nearly two months eu countries and leaders learned their lesson and recognised their responsibility toward their citizens and the EU more broadly.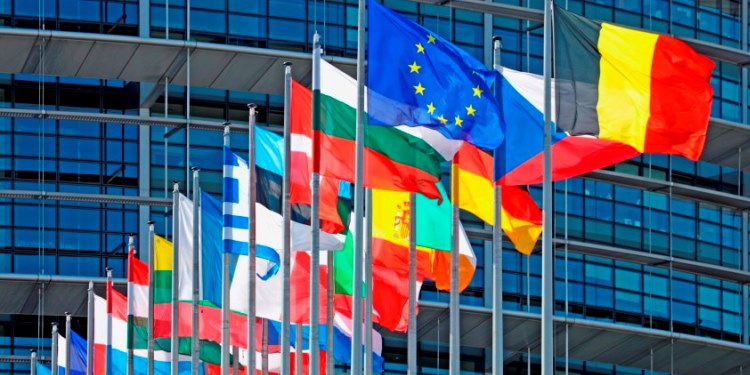 EU flags, European Parliament, Strasbourg
Immersed in the contradictions and dogmatism of its richer member-states, the European Union did not at first act with the decisiveness that was necessary in order to respond effectively to the coronavirus pandemic.
Moreover, until now it has not taken the necessary measures to address the countless economic and social repercussions of the crisis.
The common conviction is that the Union got caught up in its longstanding fixations, its many competing interests, and the different approaches of the member-states and leaders that comprise it.
As the pandemic evolved with thousands of dead, as the magnitude of the threat became clear, and as many errors and irresponsible approaches and their dire repercussions became evident – as did cases of correct and timely decision-making – that began to change.
Over nearly two months countries and leaders learned their lesson and recognised their responsibility toward their citizens and the EU more broadly.
By now everyone knows that the public health crisis is global and that the problem now lies less in the quality of health systems and more in the understanding, decisions, and action of political leaders.
That spurs some hope that in this second phase of the crisis better choices and more rational decisions will prevail.
Right now Europe has a unique chance to act decisively and in an organised fashion and to demonstrate that it is treading on sound foundations.
It should make it clear that it understands that solidarity is a necessary condition for maintaining cohesion and that the European vision remains strong and able to handle crises.
There are already some indications in Brussels that strong European powers are now more intent upon finding a solution that can effectively address both the public health and economic crises.
The plan is reportedly to set aside the divisive proposal for the issuance of a coronabond in favour of a reconstruction fund with an endowment that is sufficient to manage the crisis in all countries.
To that end it has been proposed that the Union's budget be used to as a huge base to provide guarantees for EU borrowing and the funding of member-states.
Such a strong funding scheme would be adequate for addressing the current crisis by offering targeted, long-term loans (as long as 50-60 years) with symbolic interest rates so as not to excessively burden the over-indebted countries with crushing repayment conditions or create a new debt crisis.
At this writing it is impossible to predict whether this bold and decisive proposal will be approved or what the specifics of implementation might be.
It is clear, however, that there have been in-depth and broad consultations between EU leaders ahead of today's summit.
Europe now has an ideal opportunity to act decisively and thus ensure its long-term prospects as a cohesive and useful supra-national structure that ensures the well-being of the peoples of the Union.
Of course all that remains to be proven, but it is well known that in the past the successful management of crises has served to revitalise the Union, but only after intense argument and internal clashes.
Ακολουθήστε
στο

Google News
και μάθετε πρώτοι όλες τις ειδήσεις
Δείτε όλες τις τελευταίες
Ειδήσεις
από την Ελλάδα και τον Κόσμο, από