PM says reforms can bring100bn in investment over eight years, slams Turkey
Mitsotakis accused Erdogan of using migrants and refugees as leverage to implement his geopolitical designs, as Ankara is threatening to unleash a new wave of refugees and migrants to Europe.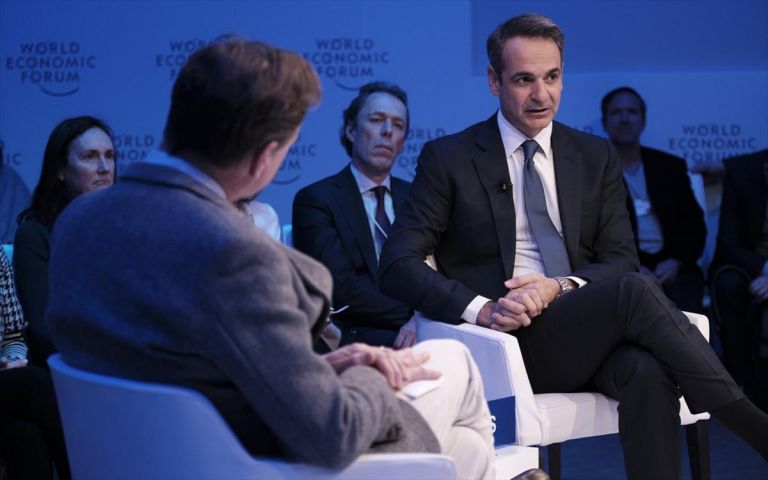 By George Gilson
Prime Minister Kyriakos Mitsotakis has said that his government's fast-track reforms are already attracting the interest of foreign investors in Greece.
Mitsotakis said that investors are beginning to be swayed by the government's reform programme (including business tax cuts).
The PM maintained that on his watch markets have responded well to his reform programme.
«Look at our bond returns,» he told Bloomberg in an interview conducted on the sidelines of the World Economic Forum in Davos, Switzerland.
PM hopes for 100bn euro in investment over eight years
«We have a stable government, there are no elections for the next three-and-a-half years, we have an absolute parliamentary majority, and we are implementing real reforms, so why shouldn't [a wave of investment] happen?" Mitsotakis asked.
The PM underlined that large US technology companies appear to have an interest in investing and that Pfizer is setting up an IT centre in Greece.
Mitsotakis said that his government's target is to «attract 100bn euro [in direct foreign investments] in the next seven or eight years.»
Relations with Turkey
Regarding Greek-Turkish relations the PM slammed Ankara for its bellicose posture stressing that Turkey signed an MOU with Libya which is legally null and void on EEZ delimitation.
The maps which Ankara submitted to the UN cut deeply into Greece's EEZ near Crete, even though the EEZs of Turkey and Libya are not even contiguous without Ankara's expropriation of a large part of Greece's EEZ.
Turkey is militarily backing (it has sent 3,000 Islamist Syrian fighters to Libya) the UN-recognised government of Libya led by Fayez al-Sarrage, which however controls only Tripoli.
Turkey is determined to prop up Sarraj at all costs since his political survival is a prerequisite for the enforcement of the MOU.
Sarrage and Turkish President Tayyip Erdogan also signed a military accord that allows Turkey a foothold in Libya.
The decision of the 19 January Berlin Conference on Libya to enforce an arms embargo on the country with a multi-national force put a damper on Erdogan's design.
The conference was hosted (under the aegis of the UN) by the German government and was attended by Angela Merkel, UN Secretary-General Antonio Guterres, the US (Secretary of State Mike Pompeo), Russia (Vladimir Putin), France (Emmanuel Macron), Italy (Giussepe Conte), Egypt (Abdel Fattah el-Sisi), and Turkey (Erdogan). Greece was not invited.
Haftar and Greece
Greece has cultivated close ties with Sarraj's arch opponent, Field Marshal Khalifa Haftar, who made an unannounced sudden trip to Greece on 17 January for talks with Mitsotakis and Foreign Minister Nikos Dendias, just two days before the Berlin Conference.
Erdogan blasted Mitsotakis for inviting the "putschist" Haftar and declared that Mitsotakis "is not playing the game right".
Haftar fully supports Greece's position that the MOU is null and void and if he prevails Athens expects him to cancel the MOU. He also vehemently opposes the Ankara-Tripoli defence pact.
«We have sincerely said we want a good and constructive relationship with Turkey, but Turkey's overall behavior is very aggressive,» Mitsotakis said.
«They [Turkey] signed an agreement with Libya that is entirely unacceptable for Greece, on the delimitation of maritime zones. It's an illegal agreement. The EU has said so, and so has the United States,» he underlined.
Erdogan's migrant threat
Mitsotakis accused Erdogan of using migrants and refugees as leverage to implement his geopolitical designs, as Ankara is threatening to unleash a new wave of refugees and migrants to Europe, even though the EU-Turkey Statement on the issue forbids such a move.
«We and the entire European Union have an agreement with Turkey which can work well. It has worked well in the past, and we must persist in enforcing it,» the PM said.
He noted that the EU-Turkey statement must be updated and that the migrant issue must be delinked from other matters.
Ακολουθήστε
στο

Google News
και μάθετε πρώτοι όλες τις ειδήσεις
Δείτε όλες τις τελευταίες
Ειδήσεις
από την Ελλάδα και τον Κόσμο, από