New Democracy blasts government over Prespa Agreement, says it is font of FYROM irredentism
The main opposition party has vowed to vote down the agreement when it is tabled in the Greek Parliament for ratification,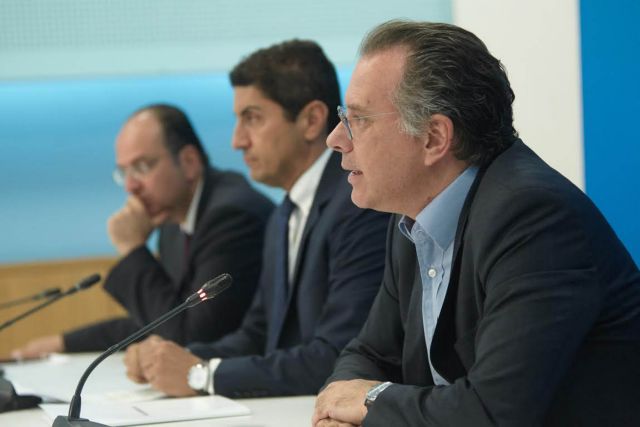 (Ξένη Δημοσίευση) Ο Γραμματέας της Πολιτικής Επιτροπής της Νέας Δημοκρατίας, βουλευτή Ηρακλείου, Λευτέρης Αυγενάκης και ο Εκπρόσωπος Τύπου βουλευτής Β' Αθηνών Γιώργος Κουμουτσάκος μιλάνε στην παρουσίαση για την δράση «Κανένας στο περιθώριο», που αναπτύσσεται σε όλη τη χώρα, υπό την αιγίδα του Προέδρου της Νέας Δημοκρατίας Κυριάκου Μητσοτάκη , Τρίτη 12 Ιουλίου 2016. ΑΠΕ-ΜΠΕ/ΓΡΑΦΕΙΟ ΤΥΠΟΥ ΝΔ/ΔΗΜΗΤΡΗΣ ΠΑΠΑΜΗΤΣΟΣ
New Democracy said that the Prespa Agreement is a font of FYROM irredentism.
"It has now been resoundingly confirmed, with sound and picture, that [FYROM PM Zoran] Zaev's unacceptable statements are even worse than we had thought. Yet, not even these remarks surprise us. They are the natural consequence of the Prespa Agreement, which from the start we had characterised as a spawning ground of irredentism and nationalism," said New Democracy's shadow foreign minister and ex-foreign ministry spokesman Yorgos Koumoutsakos.
He was referring to a video that confirmed, despite denials from Skopje, that Zaev claimed that once the Prespa Agreement takes effect the "Macedonian language" might be taught in Greek schools and that Skopje can better tend to the "Macedonians of the Aegean" in Greece.
That phrase refers to a longstanding nationalist yearning in what is now FYROM to incorporate territories of the northern Greek province of Macedonia where Slavo-Macedonians lived or lived.
"The government and the prime minister can no longer stand on sidelines as passive observers. They have a duty, even now, to assume their responsibilities. They should not proceed with the ratification of this harmful agreement," Koumoutsakos underlined.
New Democracy has vowed to vote down the agreement when it is tabled in the Greek Parliament for ratification, after January, 2019, by which time FYROM's legislature will have completed the requisite constitutional amendment mandated by the accord.
Alternate Foreign Minister Yorgos Katrougalos raised the issue with Jens Stoltenberg, the Secretary General of Nato, in which Skopje fervently wants to gain admission. That, however, is contingent on the resolution of the Greece-FYROM name dispute, which Stoltenberg himself has repeatedly state.
The US and the EU, especially Germany, have lobbied hard for the passing of the Prespa Accord in the parliaments of Greece and FYROM, so that Skopje might be admitted immediately to Nato and eventually to the EU.