Finance Ministry expects approval to abolish pension cuts in November
Any formal decision on changes to the Greek budget, including the cancellation of pension cuts, would be expected at the December Eurogroup.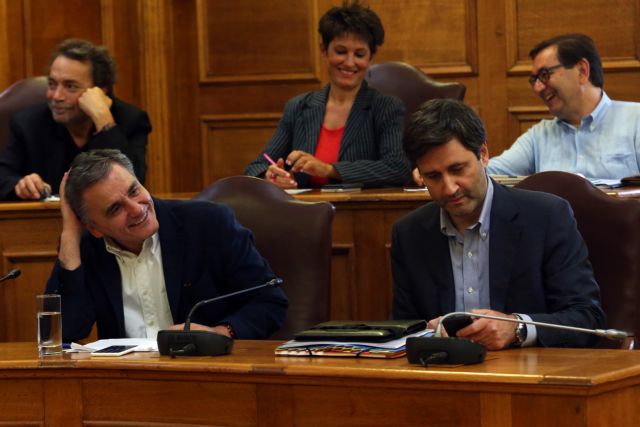 Ο υπουργός Οικονομικών Ευκλείδης Τσακαλώτος (Α) και ο αναπληρωτής υπουργός Οικονομικών Γιώργος Χουλιαράκης (Δ) στη σημερινή συνεδρίαση της διευρυμένης ΕΠΕΚΕ της ΚΟ του ΣΥΡΙΖΑ στη Βουλή, σχετικά με την ενημέρωση για το προσχέδιο προϋπολογισμού του 2019, Τετάρτη 3 Οκτωβρίου 2018. ΑΠΕ-ΜΠΕ/ΑΠΕ-ΜΠΕ/Αλέξανδρος Μπελτές
An extraordinary Eurogroup meeting towards the end of November, to discuss the deepening of the monetary union, is the likeliest time for a prospective cancellation of pension cuts in Greece, according to a Eurozone official in Brussels who spoke on condition of anonymity.
The official underlined, in line with Athens' arguments, that the crucial issue is reaching the 3.5 percent of GDP primary surplus targets.
The same source  also indicated that, beyond the pensions issue, the Eurogroup will also review the prospect of implementing certain ones of the anti-austerity measures that had been announced by PM Alexis Tsipras in September at his major policy speech at the Thessaloniki International Fair.
The finance ministry earlier signaling that at yesterday's Eurogroup Working Group there was great convergence between Greece and its European partners on the 2019 draft budget submitted to Brussels, particularly as regards the scrapping of pension cuts, fiscal space, and welfare measures planned by the government.
Alternate Finance Minister Yorgos Houliarakis represented Greece at the meeting.
According to ministry sources, the few pending issues will have been resolved by mid-November.
Ακολουθήστε
στο

Google News
και μάθετε πρώτοι όλες τις ειδήσεις
Δείτε όλες τις τελευταίες
Ειδήσεις
από την Ελλάδα και τον Κόσμο, από