Zaev: Greece-FYROM accord compromise is like a 'pain in the chest'
Zaev said that the decision that will be taken on 30 September is above parties, as it involves the country's admission to the European Union and Nato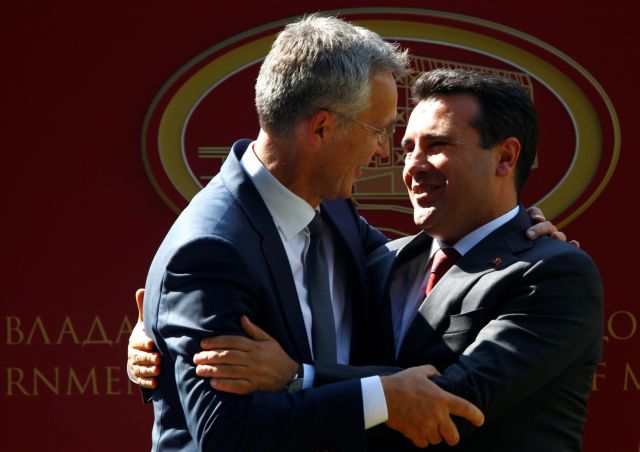 NATO Secretary-General Jens Stoltenberg and Macedonia's Prime Minister Zoran Zaev hug during a news conference in Skopje, Macedonia, September 6, 2018. REUTERS/Ognen Teofilovski
FYROM Prime Minister Zoran Zaev, who is feverishly campaigning for a yes vote in the 30 September referendum on the Greece-FYROM naming accord, likened the agreement to 'a pain in the chest', implying that it is a painful compromise.
"I made this compromise, which is similar to a chest pain, because it is the only way for us to move forward,"  Zaev said on a referendum campaign stop in the city of Veles, noting that the text of the agreement was available to all interested parties to read.
In his address to his audience in Veles, Zaev said that the decision that will be taken on 30 September is above parties, as it involves the country's admission to the European Union and Nato.
"We have been dragging our feet for 27 years. It is enough. The time has come for us to become a member of Europe and Nato. The time has come for a better life for the citizens of Macecdonia," Zaev said.