Tsipras: "Greece will uphold its comments, our partners must do too"
The Prime Minister Alexis Tsipras appeared in Parliament on Tuesday and assured that "Greece will work towards upholding its…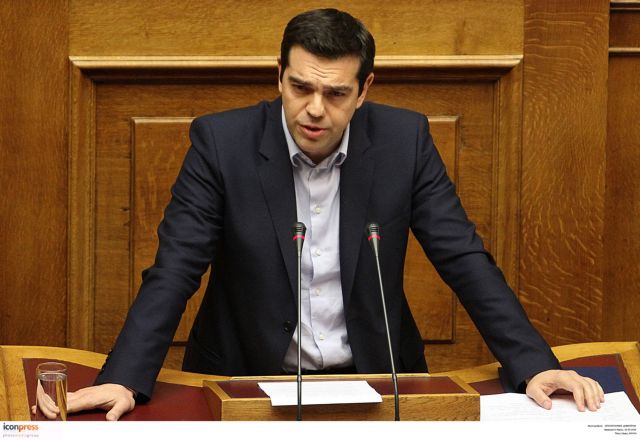 The Prime Minister Alexis Tsipras appeared in Parliament on Tuesday and assured that "Greece will work towards upholding its commitments" and "so that all unfulfilled promises towards Greece and the Greek people are kept", in the discussion for the parliamentary committee regarding the German reparations owed from WWII.
Mr. Tsipras argued that "we choose the path of negotiation and discussion, of mutual understanding and justice" and stressed that the Greek government will not back down from its inalienable claims and that "we will not give morality lessons, nor will we accept lessons in morality". The Prime Minister added that "morality cannot be a la carte" and that his government would support the efforts of the committee.
During his speech Mr. Tsipras stated that "the memory of the crimes and catastrophes committed by armed forces of the Third Reich are still fresh in the whole of Greece and Europe" and that "these memories must be preserved in the newer generation; we have the history, political and moral duty to preserve them". He then explained that "we must not preserve the suspicion and hatred between people, but always remember what Nazism and fascism mean".
Regarding legal argument that Germany settled the matter in 1960 with 115 million marks and as such has no further liability, Mr. Tsipras underlined that the settlement only addressed the victims of Nazism in Greece and not the catastrophes which the country suffered, nor the compulsory occupation loan that was imposed, or the war crimes that were committed as a result of the near destruction of the local economy and infrastructure.
German media responds that Athens is threatening with reparation claims
The German press has reported extensively on the Greek government's claims, while warning of an escalation of the tension between Athens and Berlin. The German press argued that Greece is "threatening" with reparation claims, but Germany considers the matter closed.
The Süddeutsche Zeitung newspaper notes that the Greek government is claiming 269 to 332 billion euros, citing the General Accounting Office's recent report, while Der Spiegel cites comments by the Justice Minister, who spoke of foreclosure of German property in Greece. It also hints that Greece may abandon its claims if an agreement on the Greek loans and debt are addressed. The Bild argues that Germany has a moral obligation to pay for the Nazi atrocities.
Similarly the Die Welt paper reports that Greece demands reparations for the war crimes committed by the German armed forces, with Tsipras accusing the German federal government of employing "legal tricks". The Zeit and Frankfurter Allgemeine Zeitung also feature similar headlines, reporting that the bilateral relations have suffered.
Ακολουθήστε
στο

Google News
και μάθετε πρώτοι όλες τις ειδήσεις
Δείτε όλες τις τελευταίες
Ειδήσεις
από την Ελλάδα και τον Κόσμο, από