Stavros Dimas named as government's Presidential candidate
The former EU commissioner Stavros Dimas has been named as the coalition government's candidate in the Presidential elections …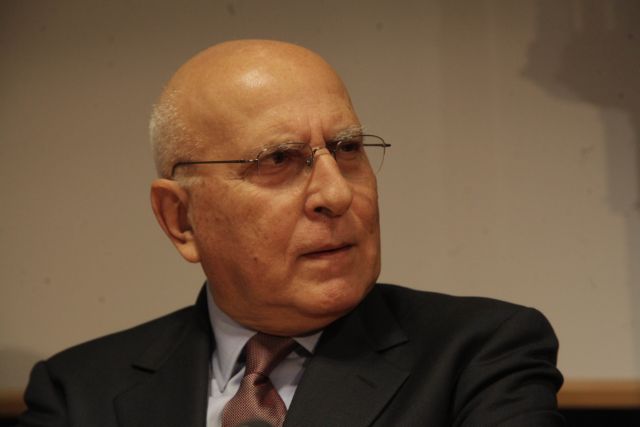 The former EU commissioner Stavros Dimas [pictured] has been named as the coalition government's candidate in the Presidential elections on the 17th of December. Mr. Dimas visited Prime Minister Antonis Samaras at his office on Tuesday morning, where he was reportedly offered the candidacy.
On his way out from the PM's office Mr. Dimas told journalists that the Prime Minister would be making the announcements. The Prime Minister later made an announcement confirming that Stavros Dimas is going to be a candidate in the three votes to take place in December. In his speech, Mr. Samraras explained that Mr. Dimas was chosen due to his political experience and efforts.
The government Vice President Evangelos Venizelos also commented that Mr. Dimas is the most suitable successor to outgoing President Karolos Papoulias. Mr. Venizelos added that Mr. Dimas «may act as the regulator of government, representative of national unity and symbol of consensus«.
Who were rumored to be the main Presidential candidates

While government sources appear tight-lipped about the people who have been considered, rumors were already circulating shortly after the Monday evening annoucement. The two main candidates were former EU commissioner Stavros Dimas and the former Prime Minister and Honorary President of the State Council, Panagiotis Pikrammenos.
The Prime Minister Antonis Samaras and government Vice President Evangelos Venizelos had not yet agreed upon a candidate to succeed Karolos Papoulias, however it was a matter of hours to narrow down their list. Mr. Venizelos told journalist Yannis Pretenteris on Monday evening that he is in favor of a political figure and revealed that a number of women have been considered, in his discussions with the Prime Minister.
Other rumors suggested that Dimitris Avramopoulos, who was recently appointed as European Commissioner of Migration and Home Affairs, may also be a candidate. Other candidates included former EU Commissioner Maria Damanaki, the European Ombudsman and academic Nikiforos Diamandouros and the President of the European Union Court Vasilis Skouris.
The president of the Acropolis Museum Dimitris Pantermalis was also considered for the position, in case the PM and VP decide to go with a non-political figure. The possibility of different candidates taking place in the three separate votes in Parliament was also considered, as the three votes are independent.