Immunity of MPs Germenis, Boukouras, Alexopoulos and Michos lifted
The detained MPs Stathis Boukouras and Giorgos Germenis have been given permission to appear in Parliament today at noon in order to be present at the…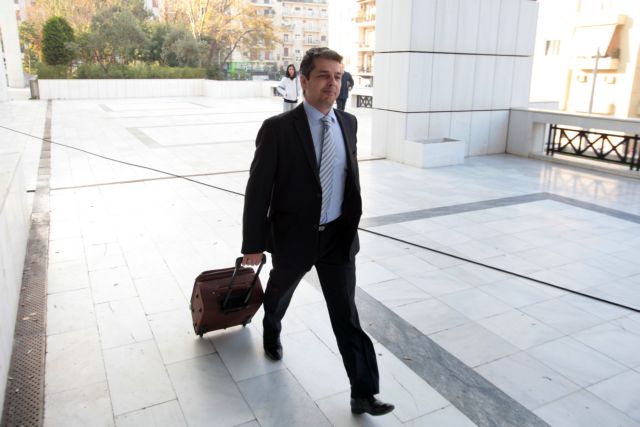 The Parliamentary Assembly voted in favor of lifting the immunity of Golden Dawn MPs Giorgos Germenis and Nikos Michos, as well as former party members and currently independent MPs Stathis Boukouras and Chrysovalantis Alexopoulos.
The two detained MPs – Stathis Boukouras and Giorgos Germenis – were allowed to appear in Parliament at noon in order to be present at the discussion regarding the lift of their immunity and were transferred to Parliament in handcuffs.
The MPs were temporarily allowed out of prison in accordance with Parliamentary rules which grant MPs the right to speak against a motion to lift their immunity. Regulations also stipulate that Parliament may only discuss whether the reason for which the immunity lift has been requested is associated with political or parliamentary activities or whether there are political considerations at play.
The applications for immunity of the independent MP Stathis Boukouras and his former comrades in Golden Dawn Giorgos Germenis and Nikos Michos relate to illegal possession of firearms and explosives with the intent to supply a criminal organization. Michos also faces narcotics charges, while Chrysovalantis Alexopoulos, who was also expelled from the neo-Nazi party, is accused of joining and directing a criminal organization.
Reactions over security measures
The decision to ban citizens from Parliament between 10am and 1pm, in order to accommodate the arrival of the detained MPs, has caused many reactions from SYRIZA and Golden Dawn alike. SYRIZA MP Theano Fotiou claimed that the ban was "improper and arbitrary", arguing that Parliament cannot be closed to people who want to get in touch with MPs.
Golden Dawn's Ilias Kasidiaris complained that the parents of indicted MPs were not allowed to attend the hearing and that "if New Democracy wants to play Junta, shut down the Parliament's television channel and shutdown Parliament". Earlier, the Golden Dawn MP told reporters that he "came to prepare the escape".
Detained MPs refuse charges
The first MP to take the stand in Parliament was Chrysovalantis Alexopoulos, who refused all of charges against, while claiming that he is not involved in any of the party's illegal activities. Alexopoulos claimed that he had never been a member of the party's central committee or political council and that he began to consider leaving the party after the murder of Pavlos Fyssas by Golden Dawn member Giorgos Roupakias. He also noted that he feared reprisals against him and his family from his former comrades.
Golden Dawn MP Nikos Michos followed him and argued that he was being persecuted for his political beliefs.
In his speech Germenis accused the government of being a dictatorship and claimed that "history is being written as it is the first time an MP attends Parliament in handcuffs", with the President of Parliament Christos Markogiannakis intervening and arguing that the detained MPs were only in handcuffs during their transfer.
Boukouras made an emotional appeal to his fellow MPs, pleading them to vote according to their conscience. The detained MP broke out in tears on the stand, desperately claiming he is not a Nazi or fascist. Boukouras claimed that he had been prescribed sedatives and that he had previously been a PASOK supporter.
Ακολουθήστε
στο

Google News
και μάθετε πρώτοι όλες τις ειδήσεις
Δείτε όλες τις τελευταίες
Ειδήσεις
από την Ελλάδα και τον Κόσμο, από