Editorial: In the whirlpool of uncertainty
The problem of non-performing Loans (NPLs), despite the ambitious plans presented of late, remains the gaping wound of Greek banks.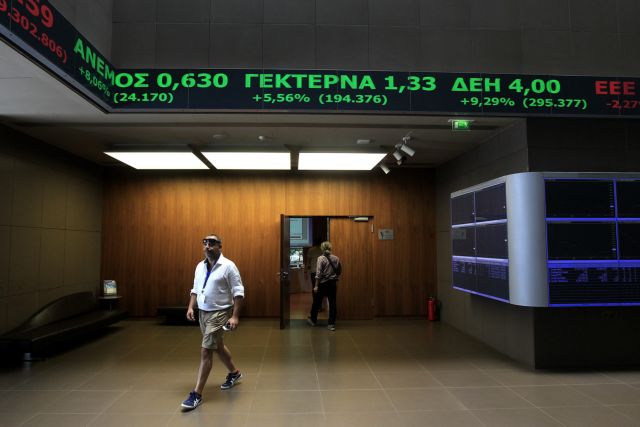 epa04871539 A man walks under an electronic board showing share prices at the Stock Exchange in Athens, Greece, 04 August 2015. Equity prices were falling on 04 August on the Athens Stock Exchange (ASE or ATHEX), with the basic share price index down 3.83 percent, standing at 642.49 points at 11.00 am and turnover at 16.26 million euros. The Greek stock exchange opened on 03 August after a month as part of the capital controls imposed by the Greek government on 29 June to prevent money from fleeing the country and a collapse of the banking system. EPA/ORESTIS PANAGIOTOU
The continuing dive of the Athens Stock Exchange (ATHEX) over the last weeks, and mainly the dramatic worsening of the capitalisation of banks, creates a worrisome climate regarding the course of the economy overall. Combined with the higher yield spreads of Greek bonds, which are prohibitive for borrowing, it dramatically undermines the success story that the government is presenting.
The problem of non-performing Loans (NPLs), despite the ambitious plans presented of late, remains the gaping wound of Greek banks. The banks maintain that they have a plan but that they need time to meet the demands of the European Central Bank. Investors do not appear to be persuaded, and they are abandoning them en masse.
The constant attacks against the banks have resulted in their losing half of their capitalisation since the beginning of the year, and as a result the four systemic banks have an aggregate value of less than four billion euros.
Obviously, this tragic image does not reflect the real condition of banks. Yet it is highly problematical and undermines their trustworthiness and role in the Greek economy more generally.
With the Greek state essentially barred from markets and the banks under constantly growing pressures, the real economy that has long suffered from a lack of funding is headed towards suffocation.
The government's celebrations over the exit from the bailout memorandum may be useful for domestic consumption, but they have not persuaded investors, and those who had the daring to invest are running away.
With banks under constant pressure and with the country shut out of the markets, the growth promised by the government remains a pipedream. Combined with the pre-electoral climate of handouts, the economic climate is becoming increasingly more difficult.
It is obvious that this situation cannot continue. Realistic and effective solutions are needed, and not opportunistic pledges and half-measures. Otherwise, we shall continue to watch the economy sinking in uncertainty, and the country will continue to totter.
Ακολουθήστε
στο
Google News
και μάθετε πρώτοι όλες τις ειδήσεις
Δείτε όλες τις τελευταίες
Ειδήσεις
από την Ελλάδα και τον Κόσμο, από