Police arrest notorious bank robbers outside Volos
Two notorious bank robbers were arrested in a major police operation that was carried out on Friday in Nea Anchialos, near…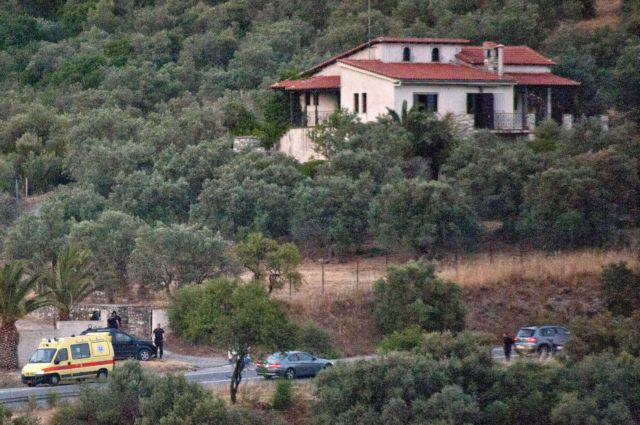 Two notorious bank robbers were arrested in a major police operation that was carried out on Friday in Nea Anchialos, near Volos in Magnisia, while a third seemingly committed suicide to avoid arrest. The two men arrested – 45-year-old Spyros Christodoulou and 37-year-old Grigoris Tsironis – and the man who appears to have committed suicide – 34-year-old Spyros Dravilas – are thought to have been involved in a number of spectacular bank robberies and believed to have been accomplices of Vasilis Paleokostas and Nikos Maziotis.
According to police announcements, the counter-terrorism police had deployed officers in the greater area in Thessaly, in response to recent robberies in the area around Larissa. During the operation, the counter-terrorism police in Volos identified one of the suspects in Volos and soon after discovered that he was residing in a two-story house in the nearby-area.
At about 4pm on Saturday police forces surrounded the building [pictured] and instructed the men inside to surrender. One of the suspects – the 37-year-old Tsironis – emerged on a balcony with a Kalashnikov assault rifle and after receiving assurances that they would not be harmed, agreed to surrender. Tsironis also told police that one of the men inside the house – the 34-year-old Dravilas, as it later transpired – had committed suicide. Gun shots were reportedly heard before Tsironis appeared on the balcony.
Ten minutes later the two men emerged unarmed from the house and were arrested. Tsironis initially identified himself as Dravilas, causing some confusion as to the identity of the man who apparently shot himself inside the house, however his identity was later established via fingerprints. According to the police announcements they did not use their weapons against the police.
Three Kalashnikov assault rifles and four pistols were recovered – which ballistics inspections show that they have not been used in any reported crimes – as well as three stolen cars. The police believe that the men were planning further robberies and searching for another suspected member of their gang, the 45-year-old Giorgos Petrakakos.
Ακολουθήστε
στο

Google News
και μάθετε πρώτοι όλες τις ειδήσεις
Δείτε όλες τις τελευταίες
Ειδήσεις
από την Ελλάδα και τον Κόσμο, από