ECB's Quantitative Easing program may generate up to 1 trillion euros
Economists estimate that the European Central Bank's quantitative easing (QE) policy may result in up to 1 trillion euros being…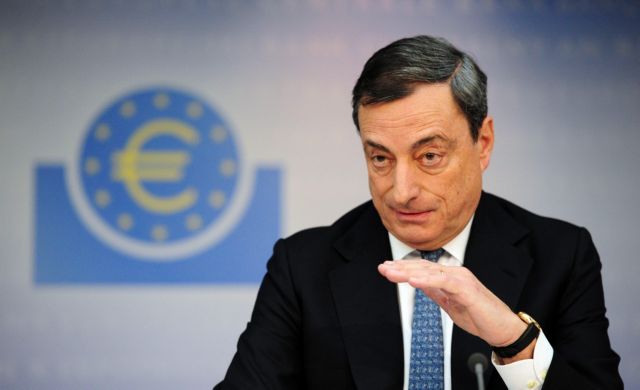 Economists estimate that the European Central Bank's quantitative easing (QE) policy may result in up to 1 trillion euros being "generated" to purchase government bonds (about 50 billion euros each month until 2016), indicating Mario Draghi's determination to tackle to threat of deflation.
The strategic analyst for Saxo Bank, John J Hardy, told Bloomberg that the ECB's program is starting at 500 billion euros, with the markets leaning towards 750 billion euros, while the maximum amount that can be expected is 1 trillion euros. The economist for UBS Reinhard Cluse however estimates that the ECB will be bolder and announce a 1 trillion euro program on Thursday, with the possibility of further increasing it.
Countries in a bailout program such as Greece, where the bonds have an investment grade lower that BBB-, will have to extend their program in order to be included in the QE. Assuming however that the QE program will have a budget of 550 billion euros, then the ECB would pay 15.9 billion euros for Greek bonds (2.9% of the 550 billion).
The Minister of Finances Gikas Hardouvelis explained at the recent Economist conference in Athens that Greece is a prime candidate for the QE program, as it has the highest deflation, debt and loan rates in Europe. As such, he asserted that additional terms, such as credit rating, should not be taken into consideration.
Hardouvelis: "ECB must include Greece in bond-buying plan"
The Finance Minister told German newspaper Handelsblatt that Greece is an "ideal recipient" for the European Cental Bank's quantitative easing program and that it should not be excluded. Mr. Hardouvelis explained that "[Greece is] the country with most deflation, the highest debt ratio and the highest domestic interest rates" and argued that the central banks of countries facing problems should be afforded greater support.
According to a report in Reuters, the Greek Finance Miniser has also called for the troika to raise Greece's short-tem borrowing cap from the current 15 billion to 20 billion euros, via treasury bills. At present Greece has reached its limit on outstanding treasury bills and is excluded from bond markets.
Ακολουθήστε
στο

Google News
και μάθετε πρώτοι όλες τις ειδήσεις
Δείτε όλες τις τελευταίες
Ειδήσεις
από την Ελλάδα και τον Κόσμο, από