Reaching bailout agreement with the institutions a "matter of hours"
The talks between the Greek government and the institutions continued on Sunday and concluded at about 3:30 on Monday…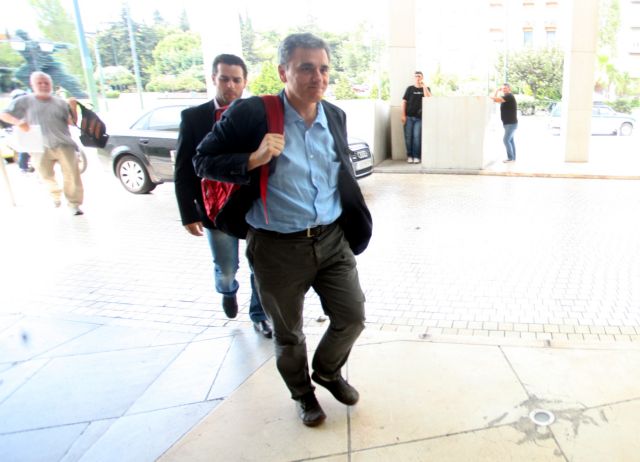 The talks between the Greek government and the institutions continued on Sunday and concluded at about 3:30 on Monday morning, with reports suggesting that the aim is to reach an agreement by Tuesday. According to a Sunday evening report on Mega Channel, the main issues that remain unresolved are related to non-performing loans, the new privatization fund, the energy sector and collective bargaining.
Reuters has cited an unnamed Greek government official, who reported that the goal for 2015 is a 0% primary deficit, while the economy is expected to shrink between 2.1% and 2.3%. The official also revealed that the hike in the special tax of heating oil for farmers will occur in tow installments, in October 2015 and October 2016. The reforms regarding early retirement may not, ultimately, be included in the prior actions, so that the issue may be carefully examined.
According to various reports, the relevant Ministers are currently working the final draft of the bill which will be tabled in Parliament and will be comprised of two articles; one for the new bailout agreement for a 52-billion-euro loan from the European Support Mechanism (ESM) and the other which will include all of the prior actions, as agreed upon at the recent meetings in Athens, so that the first tranche of 25 billion euros may be paid out.
Government sources have commented that the goal is to conclude the negotiations as soon as possible, so that the bill may be tabled for discussion by the relevant Parliamentary committee by Wednesday, so that the whole procedure concludes prior to the Eurogroup that is scheduled for Friday.
Unresolved issues
Regarding the so-called "red loans", the creditors appear to have backed down regarding the legal protection against foreclosure, with the Greek side accepting a cap on the value of protection, which will likely be 300,000 euros. The creditors however want a provision so that problematic loans can be sold on to special funds. The government however objects and has counter-proposed the settlement or haircut of such loans by a special management body.
As for the new fund to carry out privatizations of public assets, the creditors are in favor of upgrading and further improving the existing privatization fund TAIPED, so that outstanding privatizations can be completed as soon as possible. The government however wants to set up an entirely new body, which all have 'loose' timetable that will allow it to best take advantage of public assets.
The technocrats of Greece's international creditors are pressuring for the deregulation of the natural gas market and demand the separation of networks from energy providers, to which the government objects. Furthermore, although it has been agreed to discuss collective bargaining, collective dismissals and union legislation in the autumn, the creditors insist that the terms of collective labor agreements only roll over for 3 months during negotiations, rather than six.