Tsipras-Moscovici: "Time for 'courageous decisions' for all sides"
The Prime Minister Alexis Tsipras and the European Commissioner for Economic and…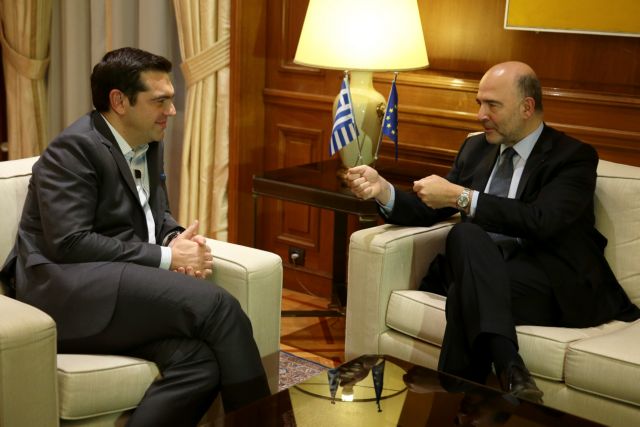 The Prime Minister Alexis Tsipras and the European Commissioner for Economic and Monetary Affairs Pierre Moscovici agreed that an agreement between Greece and the institutions on the second program review was very close.
Following their meeting, the PM commented that a deal was "very close", adding that Greece faces additional challenges as a frontline country in the southeast of Europe, stemming from the refugee crisis and overall uncertainty in the region. "This is why I believe it is now more crucial than ever to take courageous decisions for all sides. We have already shown our will and now we expect our partners to do the same" he stressed.
According the PM Tsipras, the aim is to become part of the solution in Europe instead of part of the problem, since the Grexit is no longer on the table. On the contrary, he explained, "we want it to be a success story for Greece, the Eurozone and Europe as a whole." "We have already achieved impressive results and now it is the right time to make the necessary efforts to ensure that Greece will recover rapidly" he said.
On his behalf, the European Commissioner told journalist that the talks on Greek debt must start, noting that the Eurogroup on 5 December is an important milestone, as it should pave the way for a comprehensive solution, which would be good for both Greece and the Eurozone. "I think we are very close to an agreement. We had a very successful first program review and the second is underway" he told the Prime Minister, adding that as long as Greece implements the reforms, the EU will also do the same.
The EU Commissioner said the Eurogroup on 5 December is crucial, but warned debt talks will not conclude in one meeting. Instead, they will open the way for a comprehensive solution in the interests of Greece and the Eurozone. This is the time for Greece to reap the benefits of its efforts with growth, investments and jobs for the people of Greece, who he said he knew how much they have suffered. "Greece absolutely has the ability to recover and deserves our trust" he said.