Samaras to troika: "I will not accept absurd and unjustifiable pressure"
The Prime Minister Antonis Samaras delivered a speech at the Hellenic American Chamber of Commerce's annual conference…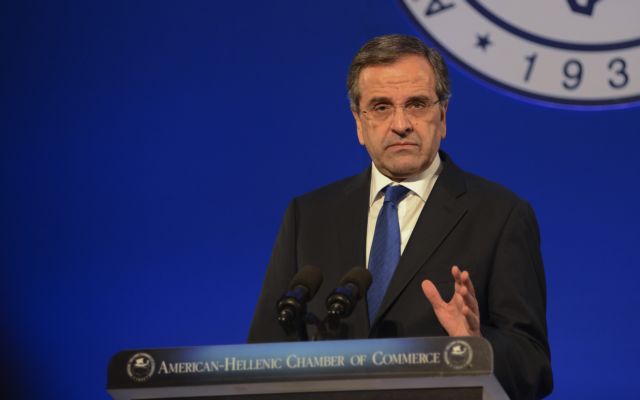 The Prime Minister Antonis Samaras delivered a speech at the Hellenic American Chamber of Commerce's annual conference on Tuesday evening, where he demanded that the troika changes its attitude.
Mr. Samaras clarified that he will not accept "absurd and unjustifiable pressure" and emphasized that "nobody has the right to treat like 2.5 or 4 years ago, when everything was collapsing. Greece has turned a page. We have a duty to defend this country's dignity and everyone must respect it".
The PM stressed that "I do not accept, nor is it right for some to say, that we did not do enough". Throughout his speech Mr. Samaras frequently lashed out against the opposition and accused it of investing in the country's failure. He warned SYRIZA against undermining the huge sacrifices of the Greek people and argued that its stance is causing problems. The political instability and possibility of early elections, should the election of a new President not be possible, will increase the chance of country's derailment.
Later in his speech Mr. Samaras focused on the troika, arguing that no further measures will be necessary, since it has consistently fallen out in its fiscal predictions. Provided that the political uncertainty can be overcome, the PM stated that the markets will assist Greece, especially if the ECCL is granted.
The Prime Minister repeated his claim that his government would continue to meet its goals and implement reforms, which will allow him to eventually carry out the gradual reduction of tax rates, without jeopardizing fiscal planning and goals.
Ακολουθήστε
στο

Google News
και μάθετε πρώτοι όλες τις ειδήσεις
Δείτε όλες τις τελευταίες
Ειδήσεις
από την Ελλάδα και τον Κόσμο, από