Opposition parties react to "NERIT" signal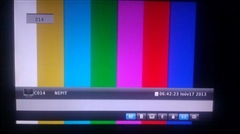 The government's decision to begin broadcasting NERIT's signal through UHF channels 48 and 52 has caused strong reactions from opposition parties SYRIZA, KKE and ANEL.
Opposition leaders SYRIZA claim that "the illegal transmission of the new NERIT signal from the public television network channels is further proof of the Samaras' government authoritarianism". SYRIZA argues that the government is disregarding "every notion of legality" whenever it conflicts with its interests.
Communist party KKE has denounced the government and Digea for "supporting the blackmailing which allows the government to set precedents". KKE also demands the overturn of the decision to shut down ERT and extends a call for the PAME demonstration tonight in Agia Paraskevi.
ANEL MP V. Kapernaros accused President of Democracy Papoulias of "nailing the coffin of Public Television with his bare hands" by signing the legislative act allowing the shutdown of ERT.