Insurance funds are heading towards a full collapse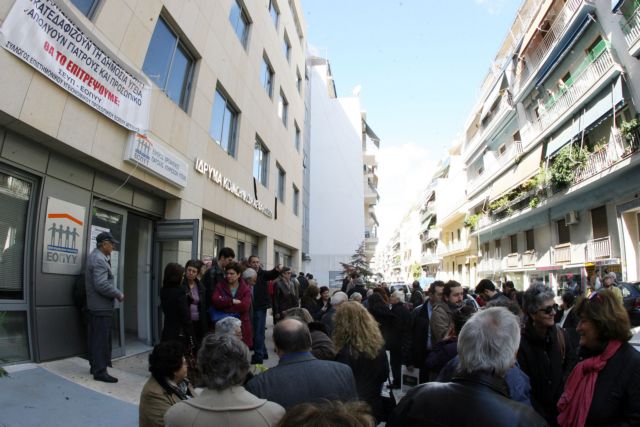 The ever-increasing rate of unemployment, uninsured employment, slashed budget funding and an influx of retirement are all contributing towards a collapse of the insurance system, despite the numerous attempts to intervene and impose measures.
Even though the government and the Ministry of Labor has estimate that revenue for the funds, especially IKA, are going to increase for the first time in four years, most other predictions indicate are not as optimistic. GSEE's Labor Institute predicts that IKA will suffer loses to the tune of 8 billion euros in 2014 due to unemployment, which is expected to balloon to 31.5% or 1,575,000 unemployed.
The Labor Institute further revealed that the rising unemployment and wage cuts resulted in 10.5 billion euros worth of loses from insurance funds in a year, while contribution evasion from uninsured and undeclared employment and other "flexible" forms of employment have deprived the funds f a further 8.5 billion euros.
The situation at IKA is dire, with about one in three employees being uninsured, resulting in 6 billion euros worth of loses in contributions; additionally the fund is unable to collect 6.7 billion euros in contributions and has accumulated 7.5 billion euros worth of debts. Meanwhile, expenses have increased from 10.8 to 11.08 billion euros between 2011 and 2012 due to a surge of retirements.
The Labor Institute's director S. Rompolis stressed that "the system is suffering a resources, rather than services problem; if new resources are not found to support the funds, then cuts in their services will be inevitable". Mr. Rompolis also stressed that it is imperative to cover the revenue deficit at the funds.
The 2014 state budget outlines significant funding cuts for insurance funds, with all hopes in balance rather optimistically resting in "an improvement of revenue collection, combating uninsured employment and collecting outstanding debts". Government subsidies for insurance funds are reduced from 10.487 billion to 8.764 billion euros, while in EOPYY's case funding will drop from 1.108 billion in 2013 to 774 million euros in 2014.
Aside from the ever-increasing rate of unemployment though, uninsured and undeclared employment are also having a significant impact on the insurance funds. Recent inspections of 1,880 businesses showed that of the 5,839 employees, 1,446 (24.76%) of them were uninsured. The fines imposed for contribution evasion amount to 1 million euros, not including fines for labor legislation violations.
Ακολουθήστε
στο

Google News
και μάθετε πρώτοι όλες τις ειδήσεις
Δείτε όλες τις τελευταίες
Ειδήσεις
από την Ελλάδα και τον Κόσμο, από