Samaras claims that Greece has kept its promises and "delivered"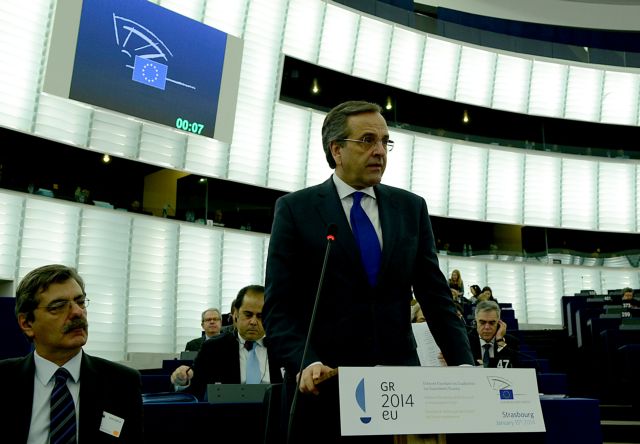 The Prime Minister Antonis Samaras addressed the European Parliamentary Assembly in Strasbourg today and stressed that Greece has kept its promises and "delivered", while avoiding a default with the help of Europe.
Mr. Samaras, who was accompanied by his consultants Chrysanthos Lazaridis and Stavros Papastavrou, maintained in his speech that Greece suffered due to three reasons: the mistakes made in Greece, the inherent structural problems of the Eurozone and the errors in establishing the first rescue package.
In the first part of his speech, Mr. Samaras emphasized the national accomplishments, while in the second part he focused on European matters. The PM highlighted the results of the fiscal consolidation, especially the restriction of deficits, but warned that the "Greek drama" of rampant unemployment rate and sharp revenue cuts threaten social peace.
The Greek Prime Minister claimed that growth is necessary to push reforms forward, while explaining that supporting growth and employment initiatives and policies is one of the Greek EU presidency's primary goals. Mr. Samaras noted that "competition is not against social justice" and that a recovery without addressing the unemployment issue should be avoided.
Mr. Samaras concluded that "we need more and a better Europe. Europe is the future of coming generation, this is the future we are shaping today, the future that brings us together. By overcoming the crisis we are moving forth more decisively".