No environmental pollution from "Sea Diamond" shipwreck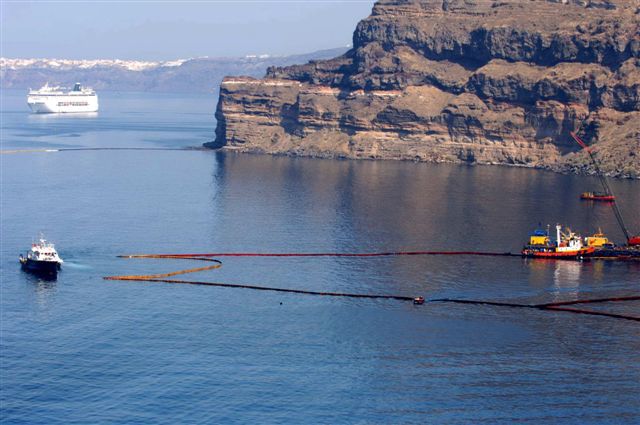 According to the sixth study of the Hellenic Center for Marine Research (ELKETHE), the shipwreck of the Sea Diamond cruise ship has not had any obvious impact on the marine ecosystem of Santorini. The study shows that the presence of heavy metals in the water is similar to the concentrations found in the open sea, while there is no evidence to support any oil pollution.
Since the sinking of the Sea Diamond in April 2007, ELKETHE has been tasked by the Ministry of Shipping to perform systematic studies in the Caldera region of Santorini to monitor the quality of the maritime ecosystem and document any possible changes attributed to the shipwreck.
A special floating damn has been installed in the area and is monitored on a daily basis by an anti-pollution craft and specialized crew, at the expense of the Sea Diamond owners. A telemetric monitoring system has also been installed, in accordance with measures introduced by the Ministry of the Environment, Energy and Climate Change.
The Minister of Shipping and the Aegean Miltiadis Varvitsiotis praised ELKETHE as a reliable organization with an incredible track record and noted that it is the Greek government and state's official consultant. Mr. Varvitsiotis also explained that the shipwreck is constantly monitored for pollution and that huge funds have been spent on cleaning up the area.