Fierce clashes in Parliament over ERT HQ evacuation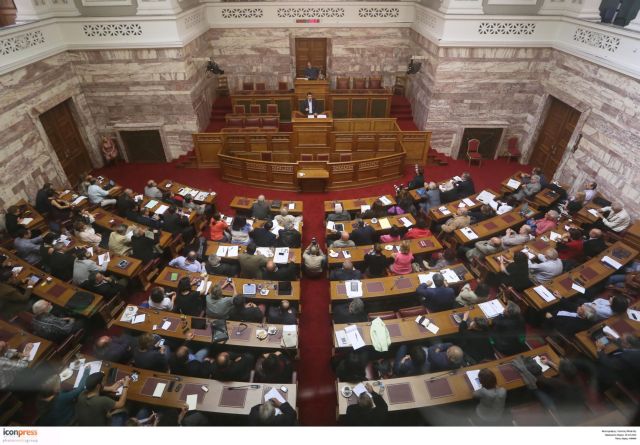 The sudden evacuation of the ERT HQ in Agia Paraskevi this morning has prompted fierce debates in Parliament between the coalition government and the opposition parties.
The Minister of Administrative Reform Kyriakos Mitsotakis argued that "what happened today probably should have happened much sooner" and that "Democracy will be upgraded when the implementation of the law is not considered news; ERT had been occupied since the 11th of June".
Nikos Voutsis from SYRIZA declared the police operation "an act of political destabilization and illegal action" and spoke of "an anti-democratic attitude aiming to further exacerbate the situation". Mr. Voutsis was also critical of the police not allowing SYRIZA MPs to approach the ERT HQ and warned that "the emergency measures for the suspension of Democracy will not pass".
New Democracy's parliamentary representative Makis Voridis responded to Mr. Voutsis by saying that «the police are responsible for upholding public order, not members of parliament". Mr. Voridis argued that the government cannot cave in to union demands and that the evacuation was "for a good public television". Furthermore, he accused SYRIZA of only being concerned about "its unionist buddies".
The PASOK representative in Parliament P. Koukoulopoulos aid that "the government is returning the building where it belongs, to the people and not the twelve individuals who were inside", adding that the police intervention "restored the free and universal operation of public television".
ANEL's parliamentary representative Vasilis Kapernaros likened the police's evacuation operation to the military invasion of the Athens Polytechnic in 1973 and accused the government of shying away from all dialog.
Nikos Tsoukalis from DIMAR expressed his hope that "this will be last mistake in a series of mistakes", while KKE MP Nikos Karathanasopoulos demanded that ERT and its employees be reinstated.
Golden Dawn MP A. Mattheopoulos spoke of a "media show of the Samaras-Venizelos junta in preparation of new measures" and argued that the government is "capable of doing anything" to ensure its reelection.