Venizelos and Fahmy to begin EEZ negotiations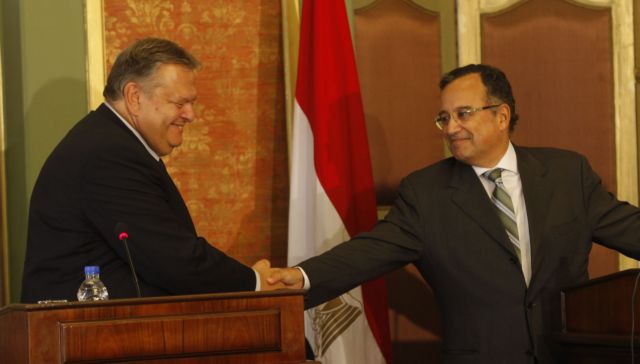 The Minister of Foreign Affairs Evangelos Venizelos and his Egyptian counterpart Nabil Fahmy announced that they will immediately resume negotiations for establishing Exclusive Economic Zones (EEZs) in the Mediterranean. Negotiations stalled during the Karamanlis administration, when Turkey objected over the effect Kastelorizo had on the deal.
When asked whether third countries (namely Turkey) could affect the deal, Mr. Fahmy replied that there is a "new spirit of cooperation" between Egypt and Greece and that "we are not concerned" if third countries are bothered. Mr. Venizelos added that the initiative is based on International Law and does not constitute as aggression against another country.
The Ministers revealed that they intend to consult experts in order to establish borders in the maritime zones. These consultations will be regular and from a mutual committee. Mr. Fahmy expressed Cairo's commitment to these negotiations, overcoming its past reservations.
According to Mr. Venizelos the negotiations are based on International Law and the United Nations Convention on the Law of the Sea (UNCLOS) and the two countries have similar positions. Mr. Venizelos added that during Greece's presidency of the EU in the first half of 2014, Athens will take initiatives in financial and diplomatic matters with Egypt and the Arab League. This could include establishing a maritime policy, which is one of the Greek priorities.
Based on information available to Vima, the preparations for the EEZ negotiations increased soon after Mohammed Morsi was overthrown. It is no secret that Turkey had attempted to influence the Muslim Brotherhood and negate a potential deal between Athens and Cairo. This could explain the reference to a three-way partnership and the inclusion of Cyprus in the negotiations. The Cypriot Minister of Foreign Affairs Yannis Kasoulidis visited Cairo earlier in the week.
Beyond the meeting with Mr. Fahmy, the Greek minister met with President Mansour, Prime Minister Al Beblawi, the General Secretary of the Arab League Elaraby and the Patriarch of Alexandria Theodore the Second. Mr. Venizelos stressed that Athens wishes to have a strategic relation with Egypt, which is a crucial pillar of stability in the Middle East, Mediterranean and North Africa. Mr. Venizelos also expressed his belief that the transition government will lead the country to establish a new constitution and hold elections.